When you hear the word copier or multifunction printer (MFP), what brand do you think of?
Xerox? Canon?
Both brands likely come to mind because they're well-known, reputable brands within the IT industry.
Xerox and Canon both make durable machines that are built to last and easy to learn and operate. They also offer managed print services (MPS) to increase office productivity.
These brands may be similar in a few ways, but there are some important differences you should consider before making your final purchasing decision. Below we discuss the differences in their security systems, applications, fleet management, and cloud devices so you can make the best decision for your business needs.
1. Security
According to cybersecurity insiders, in 2019 there were over 9.9 billion malware attacks in the IT industry. With this number of attacks each year, security should be a top priority when choosing your copier/printer.
For the safety of their users, both Xerox and Canon use McAfee Embedded Control that prevents unauthorized changes to your device. This basic software security can help protect your information from security threats like hackers.
Xerox and Canon also come equipped with some industry-standard security features such as secure email and printing or user authentication.
What sets Xerox and Canon apart is the top-of-the-line security that comes with Xerox machines. Cisco ISE Integration and FedRAMP are two maximum-level security brands that can give you the peace of mind that your machines are safe from unwanted users and attacks.
Cisco ISE Integration
Xerox and Cisco have partnered together to create a product developed for MFP support and software security. With Cisco being the market leader in IT networking, this partnership guarantees that your confidential information is secure and safe from any unauthorized users.
This advanced level of MFP protection is easily controlled via one centralized location. IT managers, and your company, can feel confident your machines are safe and secure. Below are several benefits of having Cisco ISE integration.
Only authorized users can access devices

Malware is detected and stopped

Protects your confidential information from alterations and viewing

Integration with McAfee to ensure maximum security
Cisco ISE Integration ensures your IT managers, and your company can feel confident your documents and data will be safe and secure from any unwanted users.
FedRAMP
The Federal Risk and Authorization Management Program (FedRAMP) provides a security assessment at the federal level. FedRAMP assesses and monitors your cloud products and services for maximum security. Their cloud service security standards are above the industry average, meaning a FedRAMP authorization is a tangible way to know your products are protected with top-of-the-line security.
So far, Xerox is the only MPS vendor to receive the FedRAMP authorization, making Xerox the industry leader for security.
This authorization, combined with Cisco and McAfee security software, gives Xerox security standards that other MPS vendors have not been able to meet. With over 9.9 billion cyber-attacks in one year, you want a device that is guaranteed to keep your documents and data secure.
2. Cloud Devices
Xerox and Canon both offer cloud capabilities, but Xerox's ease of use and customizable user experience gives them a competitive advantage. Xerox offers award-winning cloud-based options and mobile printing with the Xerox Workplace Cloud.
The Workplace Cloud provides authentication, print and device management, and reports that will help you analyze and control printing costs.
Print from any device, from any location, by sending your print job to a queue and retrieve it when ready. Interested in mobile printing? The Workplace Cloud App allows for easy printing from and to the cloud.
3. Unique Apps
Xerox and Canon both come with a variety of apps you can download, for free or purchase, on your machine. These apps are tools you can utilize to increase your document workflow and office productivity.
Canon's app collection includes a few unique features, such as designing and printing greeting cards or stickers for your nails. While these apps are fun, for the business setting it may be more practical to choose from Xerox's 55+ apps that are business and productivity orientated.
Below are five apps, unique to Xerox, that our customers regularly utilize to increase productivity in the workspace.
Translation App
One of the most popular and helpful apps is Xerox's translate and print app. This app allows you to translate a document from the current language to one of the 40+ other supported languages. This reliable translation can cut time and costs spent trying to translate documents. 
Audio Conversion App
Xerox's Audio Document App allows you to turn any document into an audio file. This feature allows you to listen on the go to save you time from reading through lengthy documents.
Digital Signature App
Speed up your document processes with Connect for DocuSign app. Scan your document, choose who needs to review and sign, then send your document over. Your document could be approved and signed within minutes.
Note Converter App
Research has proven handwriting notes can increase your attention span and memory, especially during lengthy meetings. After writing your meeting notes, use the Xerox Note Converter app to turn those scribbles into easy to read digitized documents. Once digitized, you can share them with others or store them in a folder for personal use.
Connector Apps
Xerox has several apps that let you connect and integrate with programs such as Salesforce, NetSuite, QuickBooks, Google Drive and more. If you're in the education environment, you can connect to your Blackboard system or Moodle account.
Xerox apps are designed for the work environment, whether you're at an office, a school, or at home. These apps will provide added value to your business and your productivity.
Here's a look at both User Interfaces:
Canon

Xerox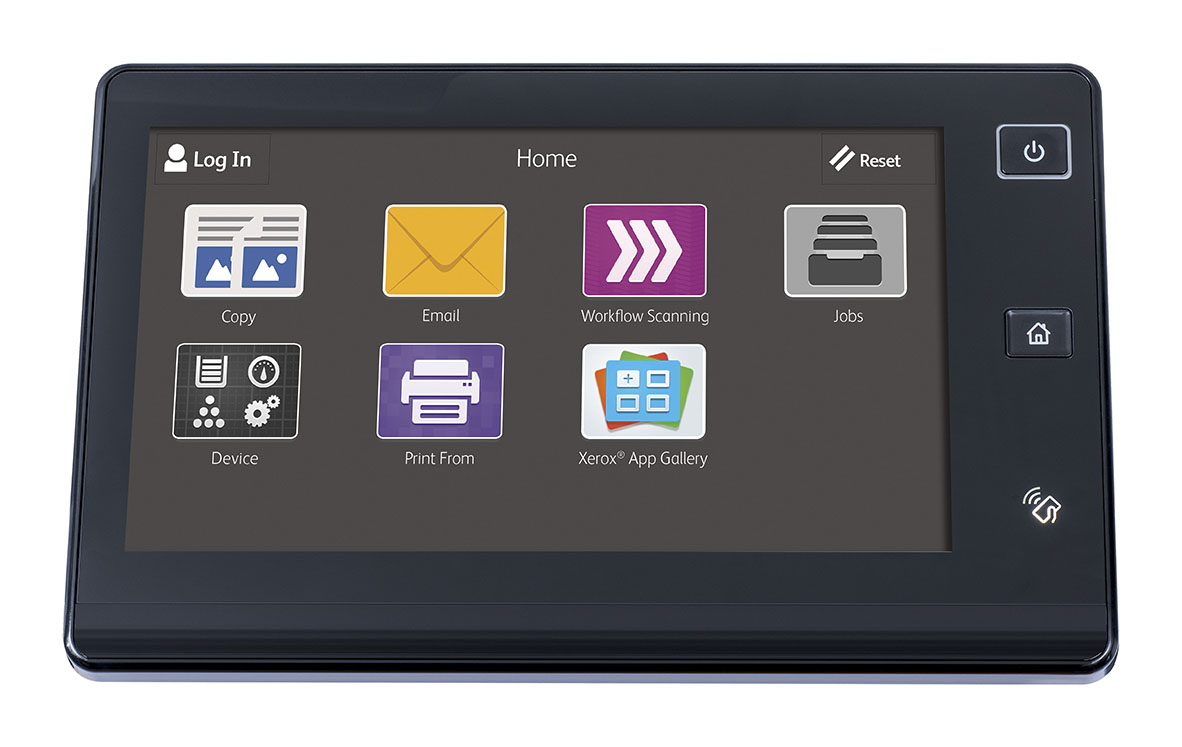 Xerox's Customizable UI With Apps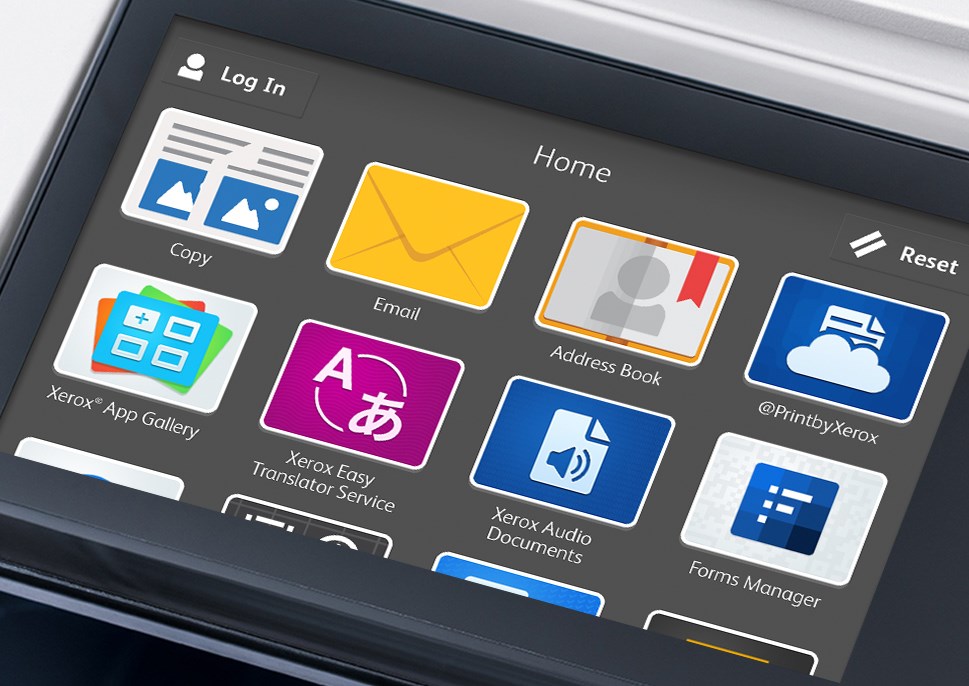 4. Fleet Management
If you are a larger business, with multiple machines to manage, Xerox's Fleet Orchestrator is a must-have program that can cut your IT departments work time in half.
Within the software, you will designate one device to be the publisher or 'parent' machine. Then you can connect the rest of your fleet (called subscribers) to this parent machine, allowing you to make changes, configurations, or software updates on one machine.
The Fleet Orchestrator can be installed on any Xerox AltaLink MFPs. This technologically advanced software allows you to control and manage your fleet from one centralized location, a must-have for larger businesses.
While reading along, you may have wondered...
 Does the order of the four topics discussed in this article matter?
The answer is yes.
We discussed security first because that should be your top priority when choosing a copier/printer. With an estimated 9.9 billion malware attacks in 2019, you need to be confident your fleet's security can protect your documents and data.
Related reading: Printer Security: Xerox's Approach, and Why it Matters
After discussing the top four differences between Xerox and Canon, we hope you have a better understanding of what you're buying when choosing between a Xerox and Canon copier/printer. Both brands offer durable and easy to use machines, but there are differences in terms of the level of security and productivity tools provided.