Links from video:
---
When considering investing in a multifunction printer (MFP) for your business, there are several things you'll need to understand and consider before contacting a vendor of choice.
Today we are going to discuss the six most important things to consider before investing in a copier or printer. Having a better understanding of these factors will ensure you have a seamless experience searching for and picking out the perfect MFP for your needs.
1. What machine is right for you?
Machines can range from personal printers, that are perfect for home-office use, to massive production units. Meaning, there are lots of machines to pick from.
Deciding one's perfect MFP depends on several factors. Such as:
Applications needed
When choosing a copier, several applications need to be considered. This includes the size and type of paper needed and finishing options. Finishing options include staples, hole punch, or booklet making.
Available space
Take into consideration the available space in your home or office. The copier must have enough room for technicians to access the machine when needed.
Copiers also need space to breathe. Do not cram the machine into tight corners or spaces. This can cause overheating.
Discuss location with a business consultant and be open to picking a new area if needed.
Current print volume
Knowing your volume is the most important determinant of which machine is right for you. Volume is how much one prints/copies each month. This can be found in three different ways.
First, check your current bill. If utilizing a maintenance plan for your current machine, the bill will likely tell you how much you print each month.
The second way is to check the meter reads on the machine is to find the current meter count on your machine. This is usually found in the machine settings or on a printed report.
Take the meter found and divide it by the number of months you've owned that machine. This will provide a close idea of the monthly volume, considering you purchased new and the meter started at or near zero.
The third way is the easiest but least accurate. If the previous two options aren't possible, decide how much paper or paper reams you go through each month.
Once the volume is determined, you'll be able to choose a machine that is designed for your specific monthly usage.
How many employees or people will be using the machine?
Lastly, count how many people will be using the machine. If more than 5-10 employees are using one machine, consider investing in a backup.
Owning the appropriate number of machines will increase productivity and ensure, if one machine is down, there is another available for use.
These are the four factors that need to be discussed with a business consultant to ensure you get the MFP that fits your business or home needs.
2. How much does it cost?
The cost of an MFP depends on several factors, including:
If the machine is leased or purchased

Specific business needs (discussed above) 

Maintenance plans
Additional storage or supplies
The first decision is deciding whether to purchase or lease. As a rule of thumb, leased machines are over $1,000. Typically, most customers opt to lease.
If opting to lease, below are costs per month based on team sizes.
Small teams of 5 people or less can expect to pay around $79-$99, depending on if the machine has color or only black and white capabilities.
Medium teams of 10 people or less can expect to pay around $163-$265 per month.
Large teams of around 20 people can expect to pay $322-$535 per month.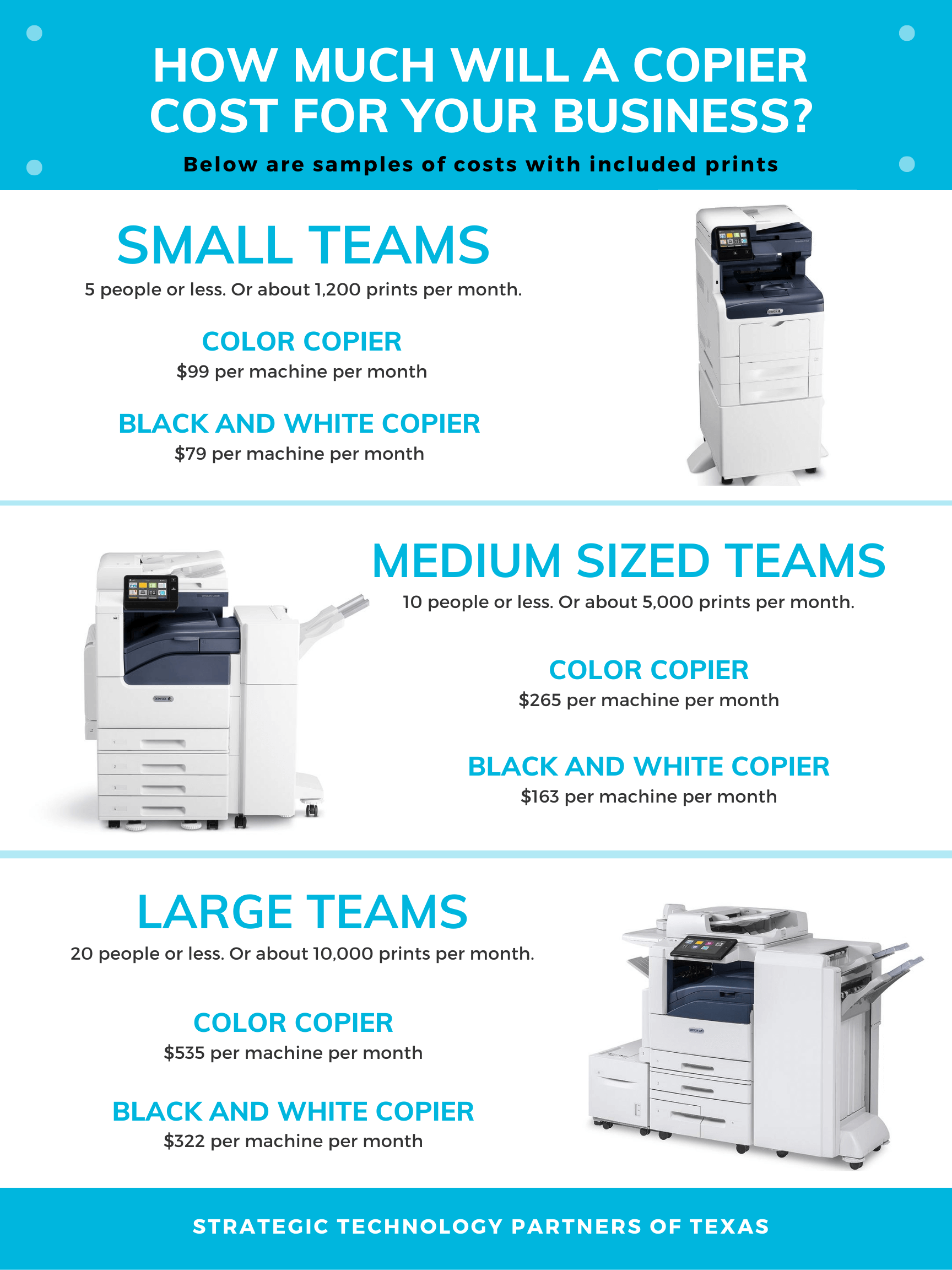 These prices are based on the machine only, no additional features. Often other features are needed such as, fax, staple finishers, high capacity paper feeders, etc. A maintenance plan will also be included to ensure access to local technicians and auto toner replenishment services.
3. Who is going to service the copier post-sell?
Adding a maintenance plan to the machines provides access to highly tenured service technicians that can assist with any service-related issues/questions.
These technicians are local and have an average of 10+ years in the industry, ensuring issues are accurately fixed.
A customer experience department is also provided for immediate phone support.
4. How to get supplies?
If utilizing the maintenance plan, toner levels will be monitored, and toner will be shipped right to your doorstep accordingly.
If the toner does not arrive, it's likely due to one of the common problems that can occur with the auto toner shipments. These problems often have simple fixes.
For example, the most common problem is customers changing the toner too soon. Be sure to change the toner when it's completely out, not when it says low toner.
For other supplies, such as waste containers, drums, and staples, manually call and reorder. Luckily, they last quite a while before needing to be replaced.
Without a maintenance plan, all supplies will need to be manually monitored and ordered. You will be billed separately for these supplies.
5. Installation and training
Standard delivery time is 1-2 weeks, depending on availability at the time of order.
Upon installation, a trained system analyst will go over the features of the machine. This walkthrough can also be scheduled for a different day if needed.
Additional training sessions can be requested on a pay by need basis.
However, there are many free training resources available online. For example, Xerox offers a free online training center and a Support YouTube filled with videos explaining the newest features or how to replace supplies.
6. How to maximize the features of your product?
There are many different features that people often aren't aware of, or they might be new. For instance, most of Xerox's newer models have apps available to help with different office needs.
One popular app that helps increase office productivity is the translator app. This app allows for a document to be translated from one language to one of the 40+ different languages available. This is a lifesaver when working with language barriers.
There are apps for the education environment, healthcare, law offices, and many more. Browse the Xerox App Gallery to see what apps might benefit your office.
More to know when buying a copier/printer
After reading this article, you should have a better understanding of the six factors you need to consider before investing in a copier/printer for your business or home use.
Next, check out our Learning Center to read in further detail about some of the topics we touched on today, such as:
Finally, once you feel comfortable or have additional questions, reach out to us. We will find the perfect machine for your business or home needs.