While browsing through copier/printer brands, you've likely stumbled across Kyocera and Xerox. These brands sell multi-function printers (MFP) that offer print, scan, copy, and fax all in one machine. If you need a copier/printer for business needs, you'll want to consider an MFP.
Both brands, Kyocera and Xerox, sell multi-function printers. This article explains the pros and cons of both brands so you can make the best decision for your business needs.
Why Xerox?
1. Long lifespan
Xerox machines are built to last. They are a powerhouse that is not only going to fit your business needs but exceed them. You get many years of life out of Xerox MFPs. If you lease from a copier vendor, you have access to onsite technicians to ensure you always have a working machine.
Related article: Is leasing or purchasing better for your business needs?
2. Advanced technology that saves you time
As a leading innovator in the industry, Xerox is constantly making advancements in technology. Xerox's automatic supply replenishment system saves you time by tracking when you need new supplies and automatically sending them for you. Remote print services allow you to print without being right next to the machine. Xerox's touchscreen devices are designed to be easy to learn and use, the layout is like a smartphone. Stylus pens also work on these screens if you prefer not to physically touch them.
Features like these will cut your work time in half. If you can't afford to lose time due to slow or difficult to operate machines, Xerox is the brand for you.
3. Innovative Productivity Applications
Xerox's app gallery offers services that can help enhance your document workflow, which increases productivity in your office. One of Xerox's most popular apps, the translator app, can turn an English document into Spanish (or whichever language you need) in seconds. Another popular app, the Xerox Proofreading app, allows you to check your work before you print.
Browse the Xerox app gallery to see the productivity tools you'll have access to.
4. Comprehensive Security
What sets Xerox apart from Kyocera, and other copier brands, is their level of comprehensive security.
Xerox offers security from McAfee, Cisco ISE Integration, and FedRAMP.
McAfee Embedded Control
McAfee provides basic protection for your device, such as preventing unauthorized changes on your device and protection from unwanted users.
Cisco ISE Integration
Xerox and Cisco partnered together to develop a product for advanced MFP support and software security.
Cisco ISE Integrations ensures only authorized users can access the device, malware is detected and stopped, and your confidential information is protected from alterations and viewing.
FedRAMP
The Federal Risk and Authorization Management Program (FedRAMP) provides a security assessment at the federal level. FedRAMP assesses and monitors your cloud products and services for maximum security. FedRAMP authorization is a tangible way to know your products are protected with top of the line security.
So far, Xerox is the only MPS vendor to receive the FedRAMP authorization.
Between these three levels of security, Xerox is the industry leader for security, ensuring your documents and data are protected.
Why Kyocera?
1. Affordable
If the only factor that is important to you is cost, Kyocera is less expensive. However, the constant need for repairs can impact office productivity.
2. Silicon-Based Drums
One of the few consumables that will last a decent amount of time on Kyocera is their silicon-based drums. These drums have a higher lifespan than any other style on the market. This technology
3. Apps Enabled
Kyocera has recently added a line of productivity apps. However, it's important to note that Xerox's app ecosystem is award-winning and has been in development for many years, offering a wider selection for your business.
Pros and Cons of Both Brands
Below we laid out the pros and cons of both brands. If you're printing more than a few times a month, we recommend leasing a Xerox MFP. However, we want to be honest with you and share the pros and cons of both brands. Our goal is to help you make a better-informed decision.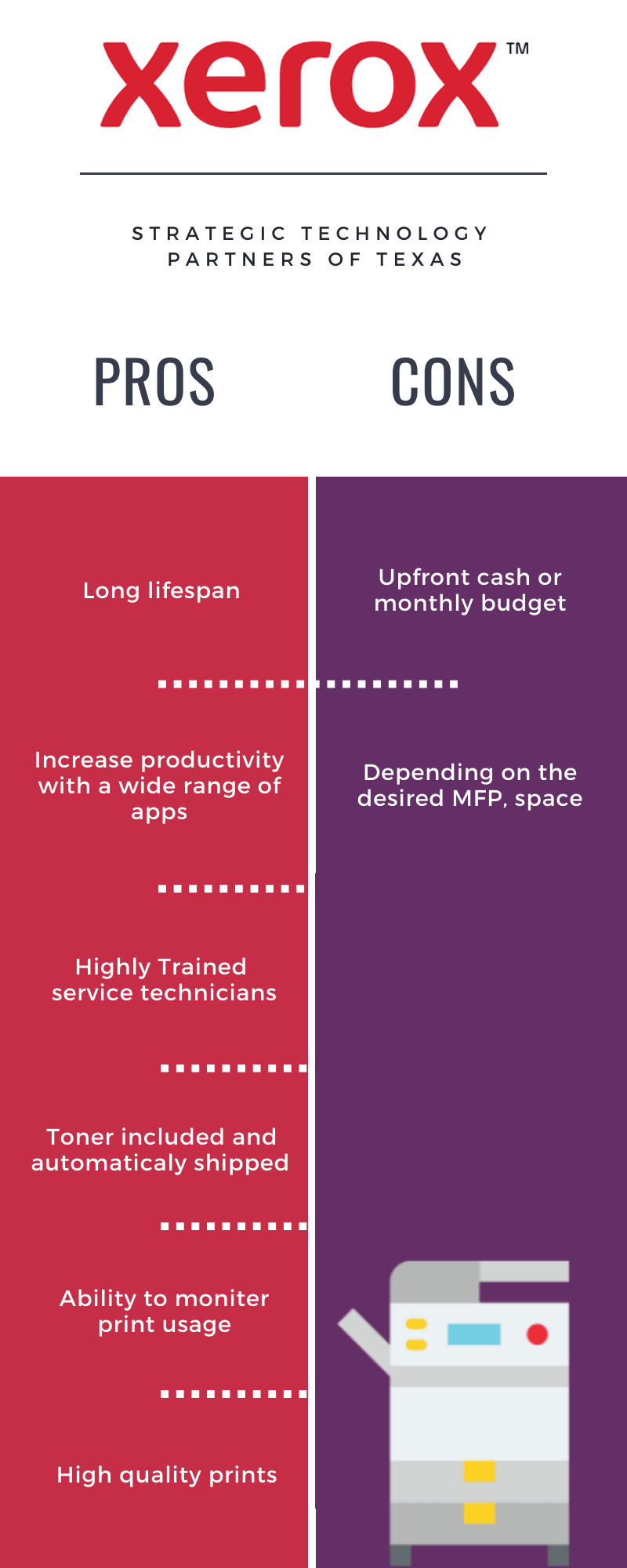 We've talked about the quality and price differences of both these brands quite a bit. To better understand how much leasing or purchasing is going to cost you, check out our cost guide.
Is Xerox or Kyocera right for your business needs?
Every business is different, and each brand of office equipment has unique features and tools that are designed for different business needs.
Deciding which brand is right for you comes down to your business needs?
A few questions you should ask yourself are:
How much do you print each month?

How many employees do you have?

Do you need high-quality high-resolution prints and/or marketing material?

Do you need additional features?

Is security important to you?
Small businesses will likely be fine with a Kyocera machine. It will satisfy their printing needs at an affordable cost.
Most medium-large sized businesses will have many employees, high print volume, and production needs that will require a Xerox machine. Not to mention, medium-large businesses will need the security measures Xerox products offer.
Xerox vs. Canon
If you're reading this article, you might be wondering what the differences are between Xerox and Canon as well.
These are both reputable brands in the industry that provide quality, durable machines.
After reading this article, it's time to check out the four main differences between Xerox and Canon. If you have further questions, don't hesitate to contact us for more information.