Looking through the different printer brands and trying to figure out how a specific model compares to another is complicated when the differences could seem minimal at first glance.
In Xerox's case, they have multiple product families in their printer arsenal, including devices of all kinds in the AltaLink, VersaLink and PrimeLink categories, among others.
It can be tedious and time-consuming to go through each of the product families and assess all the differences and features associated with them to make an informed purchasing decision.
Because we've been a locally managed print vendor for over 35 years and sell Xerox products exclusively, we've become an expert on the subject and can break down the features and distinctions of the different device families, so you don't have to.
This is not meant to be a blog highlighting all the great things about AltaLink devices and how they are superior to all the other product families in Xerox's collection or any other printer brand's product assortment.
The AltaLink machines meet particular needs for certain workgroups, and yours may not be one of them.
At Strategic Technology Partners of Texas, we are unequivocal in our desire to create content that is completely honest and free of bias.
Our goal is to objectively inform you of the topic at hand, no matter the sales consequences.
Today we will be looking at the AltaLink family specifically, discussing the different types of machines, features and differences to help you evaluate whether you fit into the AltaLink family or not.
What Printers Are In the Xerox AltaLink Family?
Let's first look at the models that make up the AltaLink family before diving into the features and differences:
AltaLink C8130/C8135/C8145/C8155/C8170 

AltaLink C8030/C8035/C8045/C8055/C8070 

AltaLink B8145/B8155/B8170 

AltaLink B8045/B8055/B8065/B8075/B8090 
If you would like to learn more about some of the specific models of the AltaLink family, read these blogs:
Xerox AltaLink B8145
6 Xerox AltaLink Printer Features
Now, let's go over six notable features of the AltaLink product family:
Smart Proximity Sensor
The Smart Proximity Sensor is a reflective sensor that automatically wakes the device whenever users approach it. After walking away, the device will auto-sleep as well, and administrators can turn these settings on/off or change the sensor distance.
This feature helps save energy and makes it so you don't have to physically turn on or shut off your printer.
Because the sensor automatically wakes the device and shuts it down, it can also save on your electricity bill if you previously had a machine running all the time.
Multi-Destination Scanning and USB Folders
AltaLink devices also make scanning documents easier by providing multiple scanning destination options.
Scanning documents can take time if you're not able to choose directly where you'd like to scan them. Multi-destination scanning cuts down on the time it would normally take to scan a document by allowing you to navigate into the subfolders of your choosing and selecting the exact location you would like to scan to, even if it's a USB folder or drive.  
Printer Personalization and Customization
With AltaLink machines, you'll also be able to completely personalize your home screen with the different applications and features that you need the most.
The tablet-like user interface provides a familiar cohesive layout that will minimize time standing at the device looking for a certain app or function.
Your IT staff can also designate which users have access to certain apps to protect against over usage and ensure confidential documents are only seen by those who have authorized access.
To learn more about the different applications in the Xerox App Gallery, read these blogs:
Scan Preview
The Scan preview feature allows you to preview a scanned document before it's been saved, so you can rescan immediately in the case of a feed error.  
The feature also lets you zoom in on images to verify if the image's color and font are to your satisfaction.
Fit, Center and Scaling for Print
AltaLink machines also come with Fit, Center, and Scaling, which lets you adjust the size of documents you want to copy.
With this feature, you can fit the document to the specified page size, center the document on the page and then scale the document by choosing its size. This way you can fit two pages or more onto just one sheet.  
Printer Security Features
The AltaLink also includes many standard security features, such as secure print, user authentication, network authentication, solid state hard drives, IP address filtering and access controls, to name a few.  
Read our blog about Xerox's approach to cybersecurity to learn more about the company's security initiatives and security features associated with its machines.
Differences Between Xerox AltaLink and VersaLink Printers
There are a few key differentiators worth noting between the AltaLink and VersaLink families.
The main difference is that the VersaLink product family contains both single-function and multifunction printers, while the AltaLink product family includes just multifunction machines.
This means that VersaLink machines are more equipped for small-to-medium businesses while AltaLink devices are better for larger workgroups.
Additionally, some features are exclusive to AltaLink devices, such as the Smart Proximity Censor feature discussed earlier and additional print finishing options, such as stapling and hole-punch.
If you would like to learn more about the differences between Altalink and VersaLink devices, read our comparison over the two product families.
Xerox VersaLink C405: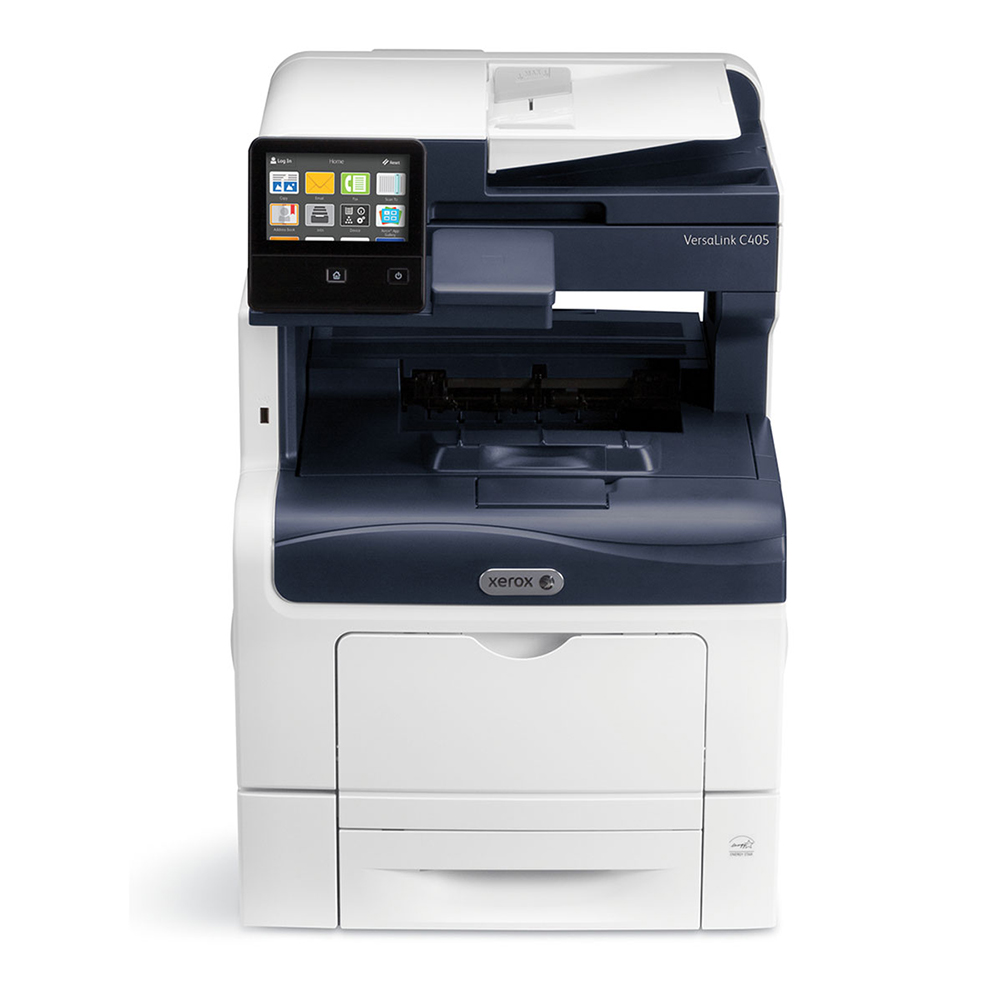 Differences Between Xerox AltaLink and PrimeLink Printers
In the previous example, the AltaLink product family played the big brother role while the VersaLink product family played the little brother role.
The best way to think about the differences between the AltaLink and PrimeLink product families is to think of those roles in reverse; in this case, the AltaLink is the little brother and the PrimeLink is the big brother.
PrimeLink machines are built for larger modern office workgroups and in-plant print shops. They are production printers best for offices that print at a high volume in color and can be used to print manuals, pamphlets and posters, among other supported media types.
AltaLink devices are better for large workgroups that print at a high capacity and want an all-in-one machine that can handle the basic print, scan, copy and fax functions.
For a more in-depth look at a PrimeLink machine, read our review of the PrimeLink C9070.
Xerox PrimeLink C9065/9070:
3 Differences Between Xerox AltaLink Printer Models
We've gone through the differences between AltaLink devices and two other members of the Xerox product family, VersaLink and PrimeLink, but what are the differences between machines in the AltaLink family? Here are some of the differences between AltaLink devices:
Print Speed
The print speed of AltaLink devices will vary depending on which one you choose. For instance, in the AltaLink B8100 series, the AltaLink B8145 has a print speed of up to 45 pages per minute (ppm), the AltaLink B8155 has a print speed of up to 55 ppm and the AltaLink B8170 has a print speed of up to 72 ppm.
In all four of the AltaLink series, the more advanced the machine is, the higher the print speed will be. This also means that printers with higher print speed efficiency will be more expensive.
Recommended Monthly Print Volume
Just as print speed varies by machine, so does a specific model's recommended monthly print volume. And like print speed, the machine's recommended monthly print volume will be higher with the more advanced machines in the AltaLink Series.
Using the same AltaLink B8100 series from the last section, the AltaLink B8145 has a recommended print volume of up 50,000 pages per month, the AltaLink B8155 has a recommended print volume of up to 75,000 pages per month and the AltaLink B8170 has a recommended print volume of up to 100,000 pages per month.
The same concept for print speed applies to the print volume as well; as the recommended monthly print volume of each machine goes up, so does the price.
As a general rule, you always want to follow your machine's recommended monthly print volume instead of its monthly duty cycle to avoid over usage and prolong the lifespan of your printer.
For more information on this, read our blog about print volume and duty cycle.
Printer Cost
As noted in the two previous sections, the price of the printer will go up as its specifications increase. Generally speaking, the more advanced the model, the more additional features it will have and the more expensive it will be.
Here are the base costs of the three machines in the AltaLink B8100 Series:
AltaLink B8145-$7,500

AltaLink B8155-$8,750

AltaLink B8170-$10,650
Here are the base costs of the five printers in the AltaLink C8100 Series:
AltaLink C8130-$8,100

AltaLink C8135-$8,760

AltaLink C8145-$11,000

AltaLink C8155-$12,700

AltaLink C8170-$15,100
As you can see, devices in the AltaLink series can get quite expensive. Some vendors may offer trade-ins and there's also the option to lease your printer, rather than purchase it outright. Leasing a printer will break up the total price of the machine into monthly payments, making it a more affordable option. For more printer cost information, read these blogs:   
How Does Xerox AltaLink Series Compare to Other Printer Brands?
Comparing product families across the printing spectrum can be difficult to surmise in a short paragraph because each brand has its own unique qualities that deserve to be discussed in further detail.
Although this blog primarily discusses the various product families of Xerox, many brands in the industry have solid, advanced machines that can accomplish the same goals as the AltaLink series.
For a look into how the AltaLink printers compare to other models of similar size, check out these comparisons blogs:
Who Is a Fit for a Xerox AltaLink Printer
Let's hit on some of the key points in determining whether you are a fit for the AltaLink series. They are:
You have a large workgroup and have a high monthly print volume.

You desire one machine to cover all the basic printing functions, such as print, scan, copy and fax.

You want to invest in a long-term printing solution for your business.

You would like advanced technology to help automate workflows and provide for additional features, such as advanced print finishing options.
If you fit into these four categories, then you would likely be a candidate for a machine in the AltaLink series.
However, making a major purchasing decision should always come with extensive consultation from an experienced representative. It's best to discuss your current situation and broader goals with your print vendor before making a final decision.
Who Is Not a Fit for a Xerox AltaLink Printer
Here are some of the main scenarios where you would not be a fit for a printer in the AltaLink series:
You don't have a big workgroup or a high monthly print volume.

You need a single-function printer or a smaller desktop multifunction printer.

You have a small office equipment budget and would prefer a cheaper option.

You print mostly in color and need a machine to print manuals, pamphlets or any other special prints.
If you fall into one of these categories, then you are most likely not a candidate for an AltaLink device.
The VersaLink product family would be the better option to look into if you resonate with the first three categories, and the PrimeLink product family would be the option if you align with the fourth category.
Think a Xerox AltaLink Printer Is Right for You?
The AltaLink product family is an advanced option for large businesses with a high print volume that would like to invest in a more permanent printing solution.
However, the AltaLink series can be too costly or inessential to small businesses who prefer a more affordable option, need just a single-function printer or don't print at a high volume.
It's our ultimate goal at Strategic Technology Partners of Texas to use our expertise to help you find the right solution for your unique printing needs.
If you are interested in purchasing a machine from the AltaLink family or have any additional questions, reach out to us and we will do our best to assist you.