With mobile apps expected to generate around $189 billion in revenue by the end of this year, according to research, it's easy to see why other electronic devices such as copiers/printers have begun adapting to this form of technology.
Not only are apps popular, but the advanced technology and printing options they provide can cut your work time in half.
For example, the time and money spent hiring a professional to translate documents into your client's language can be drastically cut down through an app that, in a few seconds, does the job for you.
Some people may have reservations because of the preconceived difficulty of learning and implementing new processes. However, Xerox has created an app gallery designed to be easy to use and implement to maximize productivity for businesses.
Top 6 Apps to Increase Productivity
1. Connect App for Cloud Storage
Connecting to the cloud through Xerox Connect App for Cloud Storage is one of the most popular apps within the app gallery. The ability for flexible and secure printing has become a necessity in the business environment. Using an ID card or password, you can log into your machine of choice, search the cloud for your files and documents, and finally, print.
This is one of the best apps for productivity because it allows users to maximize time and improve workflows. Using a receptacle like GoogleDrive or Dropbox, you can open, save, scan, and print documents directly from your computer, tablet, or phone.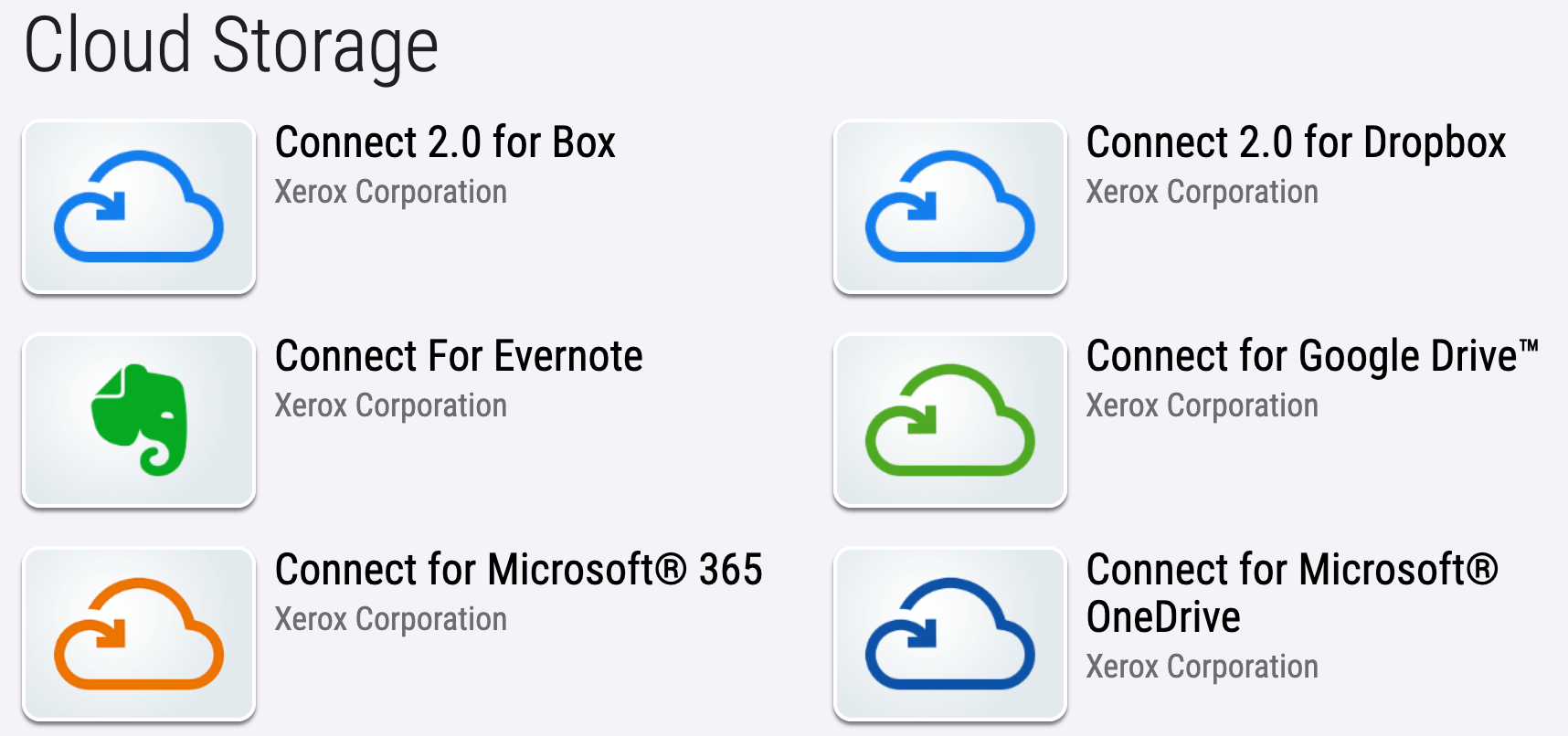 2. Translator App
Xerox's innovative translator app has provided a solution to the growing diverse marketplace. Language barriers take time away from getting your job done and lead to financial losses for your company.
This app allows you to pick from a selection of 40 different languages and translate the document in seconds. This app, unique to Xerox, has provided a solution to a growing need in the business environment. Xerox Translate and Print app allows you to scan your document in and print it out in the language of your choice.
3. Xerox Mobile Link App
In the post-pandemic world, having touchless technology has become increasingly important. The Xerox Mobile Link app provides you with all the functions of a multifunction printer (print, scan, fax, and copy) from your mobile device. This app will allow you to feel safe sharing your office equipment.
Of all the apps for productivity on this list, the Xerox Mobile Link app is one of the most convenient for users because it allows you to control printing and scanning devices from your own phone.
4. CapturePoint
Xerox's integration with CapturePoint allows a hard copy document to convert into a word document, excel sheet, or PDF. It can then be sent to one of the several different destinations options, such as Google Drive, OneDrive, or Dropbox.
When working with sensitive information, rest easy knowing the automatic firmware upgrades will protect and secure any document being converted and transported.
This is one of the top apps for productivity to use if you are planning on going paperless because it makes the process of scanning paper documents into digital PDFs easier.
5. Audio Document App
In a busy work environment, reading long documents may be taking up valuable time. Xerox's Audio Document app can turn those lengthy documents into audio (mp3) files. The file will be sent to the email of choice, allowing for convenient listening on the go. 
Essentially, this app automatically generates an audio file so you can listen to important documents while driving in the car, exercising, or cleaning your home. By listening to documents on-the-go, you save valuable work time for other, more demanding work processes.
6. Create your Own App
Through the personalized application builder program, Xerox offers the only service in the MPS industry that can provide the resources to build a customized app. Xerox's software development resources can create an app for specific business needs and goals. With the growing popularity of mobile applications, this ability could expand company exposure and help create an interactive and seamless process for clients. 
Xerox is moving with the times and constantly creating apps that will optimize workflows and generate more productivity in your business. For example, during the COVID-19 pandemic, Xerox added a free app that reminds users to wash their hands.
Don't get left behind as more companies turn to advanced applications to streamline and enhance business operations. Browse the Xerox app gallery to see the constantly expanding options designed to help your business processes. Embrace the technology that was built with your business needs in mind.