Looking for the right multifunction printer for your office can be a tedious task. With so many different brands to choose from, all with their distinct advantages and price points, it can be overwhelming, especially if you understand the importance of choosing the right machine.  
Being a copier/printer vendor for 35 years means that you have a lot of knowledge when it comes to which print features certain organizations might be looking for. We work closely with many businesses to determine their budget, print volume, and desired functions, to make sure that they have everything they need for their business to be as productive as possible.   
We've decided to compare two similarly sized multifunction printers, the Xerox VersaLink C405 and the HP LaserJet Pro MFP M570dn in order to highlight the advantages and disadvantages of both and give an accurate representation of features that businesses might be looking for. This way you can determine if one of these options is the right choice for you and know that you're making an informed decision.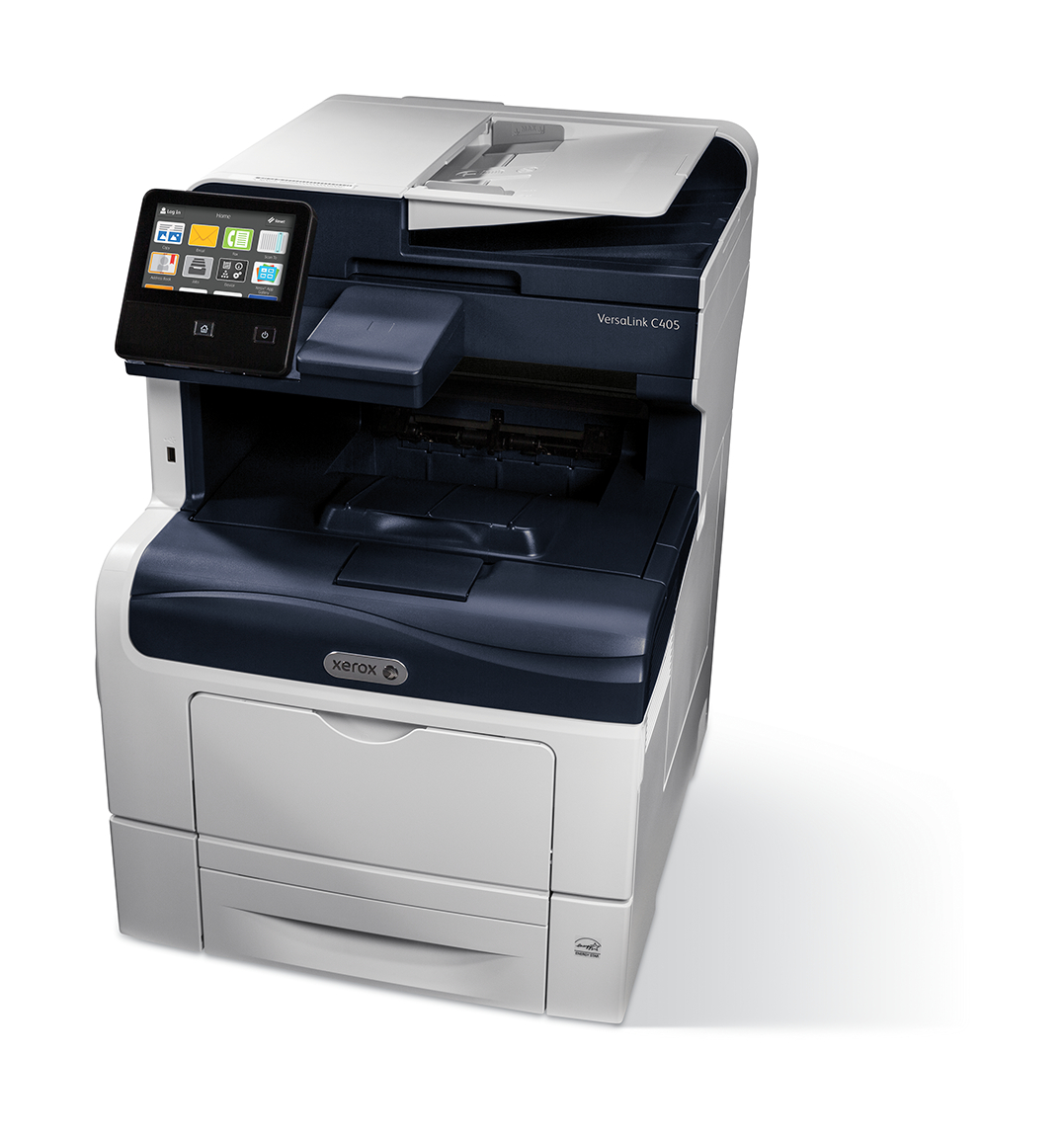 Basic Stats
VersaLink C405 Print Speed: 36 PPM (letter) 35 PPM (A4)
VersaLink C405 Print Resolution: 600 x 600 x 8 dpi
HP LaserJet Pro M570dn Print Speed: 31 PPM (letter) 30 PPM (A4)
HP LaserJet Pro M570dn Print Resolution: 600 x 600 dpi
User Experience/Product Interface
Xerox C405's user interface features a 5-inch color touch screen and is presented in a way that allows users to switch between apps with ease, with convenient gestural support (swipe, pinch, and tap). The interface also presents essential buttons first to save the user time and uses a swiping motion to access additional features. The C405 user interface is a similar experience to using most popular smartphones, so users will find themselves more comfortable and familiar while interacting with the copier/printer.
But the best feature is that Xerox has intuitive and predictable apps which help guide users through each workflow, personalization and customization, and familiar user experiences that reduce time on tasks. HP's M570 doesn't allow for customization/personalization, and while certain apps can be disabled, they won't be removed from the home screen. This means you'll still have to navigate through apps that you don't use, decreasing productivity time.
The C405's UI is also customizable per individual user, group, or company. Apps can be moved, hidden, or added. Xerox's UI also allows authentication to provide unique user experiences for each user (this includes the personalized status of print jobs and email "from" address).
Copying
Copying UI on the C405 presents the user with a simple copying screen where you can select the number of copies you want to make. You can make additional changes by swiping up on this screen. HP's copying UI is cluttered and all the same color, which isn't as easy to use. Xerox's UI also provides you with a pop-up screen when adjusting settings whereas HP's takes you from the copying screen to another page, disrupting the workflow. 
Scanning
The VersaLink C405 is able to provide a scanned preview so users can see a scanned file before they send it to a scan destination (including email). HP's M570 cannot provide its users with a scanned preview. Xerox's C405 can also allow users to check for accuracy and modify jobs by zooming, rotating, and deleting unwanted pages in the scan and HP's M570 cannot. Scanning is also only four steps on Xerox's UI and takes much less time than HP's 8 steps. Another scanning benefit from Xerox is that you can create searchable PDFs from scans and HP cannot.  
Printing
Print driver advantages 
Xerox's print driver is an intuitive 4-tab layout with 90% of routine functions on the home screen; this requires less navigation from users.  
Xerox's print driver is bi-directional which allows it to communicate what paper sizes/types and toner levels are in the machine and it mimics tray selection with a highlighted graphic for users to see which trays they are selecting.  
HP's M570 has a 7-tab layout, and you need to scroll through numerous tabs to complete routine functions.  
The HP M570 does not have bi-directional communication so there is no way for users to view the paper types/sizes, or whether the paper tray is empty. 
Users must install a separate HP universal fax driver in order to fax documents from a computer, while fax comes standard on the Xerox VersaLink C405. 
Image Quality
The VersaLink C405 has a print resolution of 600 x 600 x 8 dpi, giving images clear details and edge definitions. It also features superior color reproduction which creates vivid colors and accurate skin tones, as well as its registration, giving you clearer image text. HP's images are oversaturated, negatively impacting detail, and their dpi is only 600 x 600, less than Xerox's.
Security
When it comes to security, Xerox's approach is proactive, whereas HP's is remedial. Both brands utilize features such as Whitelisting, Run-Time Intrusion, and Sure Start, but HP uses a program known as "Self-Healing", where after an anomaly is detected, the device must reboot, reload, and then is able to continue normal operations. Xerox devices automatically reject anomalies, eliminating the need for Self-Healing. In other words, HP's security fixes threats after they have already gained access, whereas Xerox's approach is prevention.
Cost
Cost is a difficult thing to measure, mostly because prices can fluctuate a lot depending on certain things. Adding more finishers and upgrades to your printer will obviously increase the price, but there are also special promotions that some vendors run, pre-negotiated special pricing that you could qualify for, and then also the gradual price shift overtime depending on the current market. For more insight on pricing and costs, read our article How Much Does Leasing/Purchasing a Copier Cost?  
Without including any form of service agreements or price-per-print, the MSRP price for the HP LasetJet Pro M570dn is $999.99. The MSRP price for the Xerox VersaLink C405, is $979.00. The M570 was introduced to the market in November of 2012, and the C405 was introduced in February of 2017.
Price per print is an important thing to understand when making a copier or printer purchase, so to learn more about the top 6 things to consider, read this article.
Which is Right for You?
Both the Xerox VersaLink C405 and HP LaserJet Pro M570dn are impressive models, and capable of producing excellent print jobs and performing additional functions. But now that you've seen the in-depth differences between them, your decision will be a bit easier to make, and you'll feel confident knowing you're making the right choice.  
If you have any additional questions or need help understanding which printer will best fit your needs, feel free to reach out to us at any time and an experienced business consultant will be happy to assist you. If you'd like to read more comparison articles, check out our Xerox vs. HP article as well as these others: