If you've found yourself on this page, it's likely that you're looking for the right multifunction printer for your office and came across the Xerox VersaLink C7020.
Here at STPT, we're always striving to provide the best fit for businesses in search of copiers and printers, and keeping our customers informed on all of the different options available is a priority for us.
In order to help you decide if this multifunction printer is right for you, we've created an in-depth review highlighting the features, upgrades, pros, cons, and overall cost of the VersaLink C7020.
Key Features and Specifications for the Xerox VersaLink C7020
Print Speed: 20 PPM  
Duty Cycle: 87,000 pages 
Recommended Volume per Month: 10% of monthly duty cycle; 8,700 
Print Resolution: 1200 x 2400 DPI  
Scan Resolution: 600 x 600 DPI  
Available Print Sizes: (Standard): DADF – 110 sheets up to 55 ipm; custom sizes; 4.92 x 4.33 in. To 11.69 x 17 in.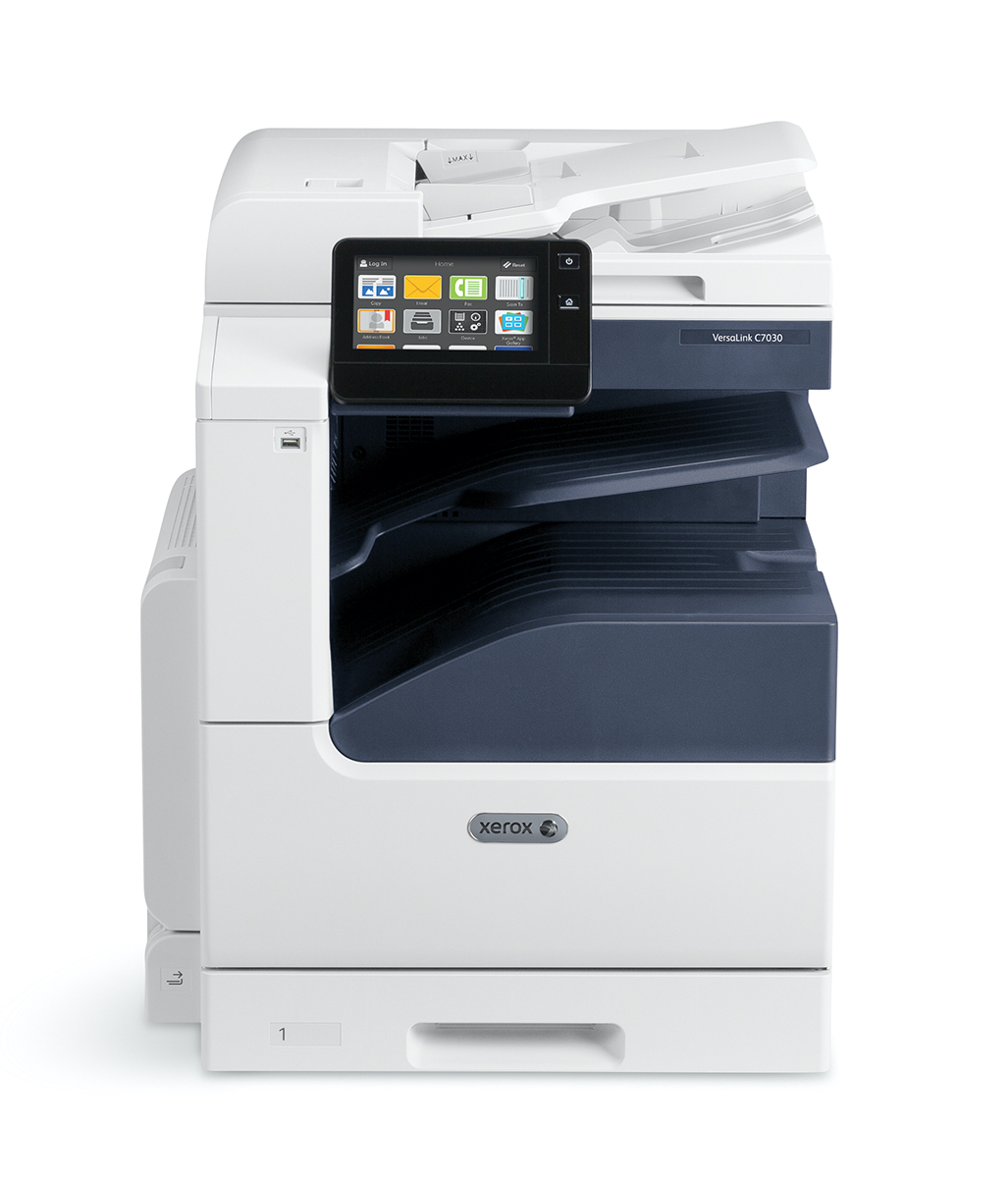 Additional Features
While the specifications and resolution standards of the printer are important, it's the additional features where the VersaLink C7020 really gets a chance to stand out.
Intuitive User Experience
Customizable interface so your employees can feel comfortable with and knowledgeable about their device

Personalized profile options through user authentication

Auto wake-up with a smart proximity sensor that can tell when you're approaching the machine so it's awake and ready for use

Adaptive Learning enabled to set up shortcuts for repetitive and complex jobs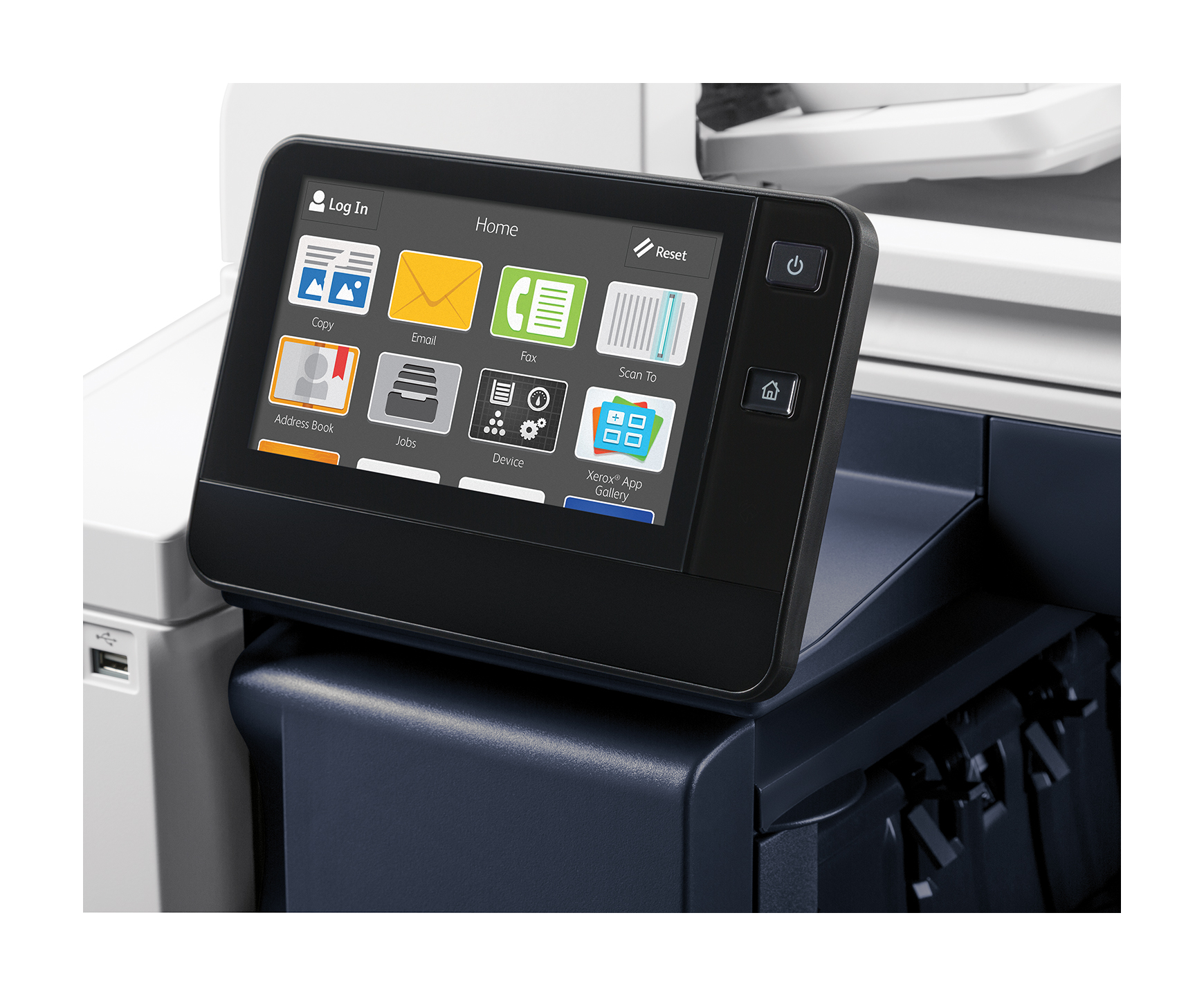 Mobile and Cloud Ready
Mobile Connectivity- Near Field Communication (NFC), Wifi, Apple AirPrint, and iBeacon (Bluetooth) compatibility

Mobile Printing and Scanning- Compatible with all sorts of mobile printing software such as AirPrint (iOS), Mopria (Android), Xerox Print Service, and Xerox Workplace Mobile App

Cloud Ready- Upload and print directly from cloud repositories like Google Drive, Dropbox, and OneDrive

Enjoy direct connection to cloud repositories via optional apps on Xerox ConnectKey App Gallery
Comprehensive Security
Xerox offers the most robust security initiatives out of any copier/printer vendor, through its exclusive partnerships with Cisco and McAfee, and its inclusion of Network Security, Device Access, Data Protection, and Document Security. To learn more, read our article on Xerox's Comprehensive Security Initiatives.
Xerox ConnectKey App Gallery
Through its tablet-like interface, Xerox ConnectKey Technology provides access to various apps that can automate workflows, instantly translate documents, scan to cloud repositories, and so much more. You can explore the Xerox App Gallery by taking a look through Xerox's website.
Related Reading: What is Xerox ConnectKey Technology?
Available Upgrades and Attachments for the VersaLink C7020
Upgrades and attachments can turn a simple printer into a full-functioning office productivity master. There are attachments that add additional paper storage, finishers that can staple and three-hole punch, and even high-capacity paper feeders that keep you from having to constantly refill and switch out paper. Below is a list of the upgrades compatible with the VersaLink C7020, and descriptions.
110-sheet Duplex Automatic Document Feeder (DADF)  

Scans two-sided original documents in color and black and white for scan, copy, and fax jobs.  

Convenience Stapler and Work Surface (Optional)  
Card Reader Bay 

Comes equipped with an embedded USB port.  

USB Port 

This easily accessible USB port allows users to easily print from or scan to any standard USB storage device.  

100-Sheet Bypass Tray 

Is capable of handling media sizes from 3.5 x 3.87 in. To 11.69 x 17 in.  

520-Sheet Tray #1 (Standard)  

Handles media sizes from 5.5 x 7.17 in. To 11.69 x 17 in.  

The Single Tray Module (Optional with the desktop model)  

Increases the machine's total paper capacity to 1,140 sheets (including the bypass tray).  

Single Tray with Stand Module (Optional)  

Increases total paper capacity to 1,140 sheets (including bypass tray) and provides storage for consumables such as toner cartridges and other supplies.  

Three Tray Module (Optional)  

Increases total paper capacity to 2,180 sheets (including bypass tray). The optional high-capacity tandem tray module allows for a total paper capacity of up to 3,140 sheets (including the bypass tray).  

High-Capacity Feeder (Optional)  

Holds 2,000 sheets of letter (A4) paper; increases the maximum paper capacity to 5,140 sheets.  

Dual Catch Trays (Optional with Desktop Model)  

Stack up to 250 sheets each, lower tray offset.  

Office Finisher (Optional)  

Advanced finishing functions and optional booklet making (saddle-stitch and score).  

Integrated Office Finisher (Optional)  

Provides 500-sheet stacking and 50-sheet dual-position stapling.  
Pros of the Xerox VersaLink C7020
The Xerox VersaLink C7020 is a versatile machine that can handle several different types of media, including tabloid-sized paper. It also comes equipped with ConnectKey Technology, which enables you to add apps creating a unique experience with your Xerox machine. You can automate complex jobs, auto-redact documents, share patient files with HIPAA compliant technology, and so much more.
The C7020 also comes with a customizable user interface and profiles, so that different users can have their personalized setup after logging into the machine, and also ensuring that their information remains secure and confidential.
Finally, the Xerox VersaLink C7020 is a very well-priced machine, producing high-quality prints on various sizes of media, while still keeping up with a higher print volume than most small businesses.
Cons of the Xerox VersaLink C7020
While this machine is priced well for the value that it provides, it's not intended to keep up with larger workgroups with demanding printing needs, or any organization that needs to print more than 8,700 prints per month. Overprinting will lead to service issues and device malfunction, costing you more time and money in the long run.
It also doesn't print at the same pace as some of the more robust machines in Xerox's product line, and while it works well as the first printer for a smaller office with a tight budget, larger workgroups would probably do better with another machine.
Who is this Multifunction Printer a Good Fit for?
This machine is a good fit for small-medium-sized workgroups that print around 5,000-8,000 pages per month. Because it provides basic finishing options for a fair price, it's also a good option for businesses who don't have the budget for a larger machine like the AltaLinks. To find out how much you're printing on average, read our article on Understanding Your Copier's Duty Cycle and Print Volume.
Who is this Multifunction Printer NOT a Good Fit for?
This machine is not a good fit for larger workgroups with a higher print volume. If your business or organization is printing more than 8,000 pages per month, then we recommend you take a look at the Xerox AltaLink family or read our review on the Xerox AltaLink C8155 Multifunction Printer.
If you're looking for a fast machine with higher productivity, this machine might not be a good fit for you.
What Are the Overall Costs of the VersaLink C7020?
Currently, for a standard VersaLink C7020, you can expect to pay around $2,000. However, this can vary depending on any additional upgrades that are added, and/or if you are part of a purchasing co-op. In addition, some companies even offer discounts for trading in your old machine.
Think the Xerox VersaLink C7020 is a Good Fit for You?
After reading this review you now have a good in-depth understanding of the Xerox VersaLink C7020 Multifunction Printer, and you have a clearer idea if it's a good fit for you and your organization. You can approach any sales conversation with the knowledge and confidence you need to make the right decision.
If you'd like to move forward with the VersaLink C7020, reach out to us here at STPT, and we'll assist you into getting the multifunction printer your office needs.
If the VersaLink C7020 doesn't sound like it's the machine for you, check out our reviews over similar options such as the Xerox AltaLink C8155, or for a desktop option, you may look into the Xerox VersaLink C405.