If you've found yourself on this page, it's likely that you're looking for the right multifunction printer for your office and came across the Xerox AltaLink C8145.
Here at STPT, we're always striving to provide the best fit for businesses in search of copiers and printers. To do that, we have to know a lot about what it is that we're providing- and how it's going to benefit our customers. Keeping our customers informed on all of the different options available is a priority for us.
In order to help you decide if this multifunction printer is right for you, we've created an in-depth review highlighting the features, upgrades, pros, cons, and overall cost for the Xerox AltaLink C8145.
Key Features and Specifications 
Print Speed: 45 PPM 
Monthly Duty Cycle: up to 200,000 
Recommended Volume per Month: 8,000-20,000
Print Resolution:1200 x 2400 DPI  
Scan Resolution: 600 x 600 DPI 
Max Print Sizes: 3.5 x 3.9 up to 12.6 x 52 in
Additional Features
Intuitive User Experience
Customizable interface so your employees can feel comfortable with and knowledgeable about their device
Personalized profile options through user authentication
Auto wake-up with a smart proximity sensor that can tell when you're approaching so your machine is awake and ready for use
Adaptive Learning enabled to set up shortcuts for repetitive and complex jobs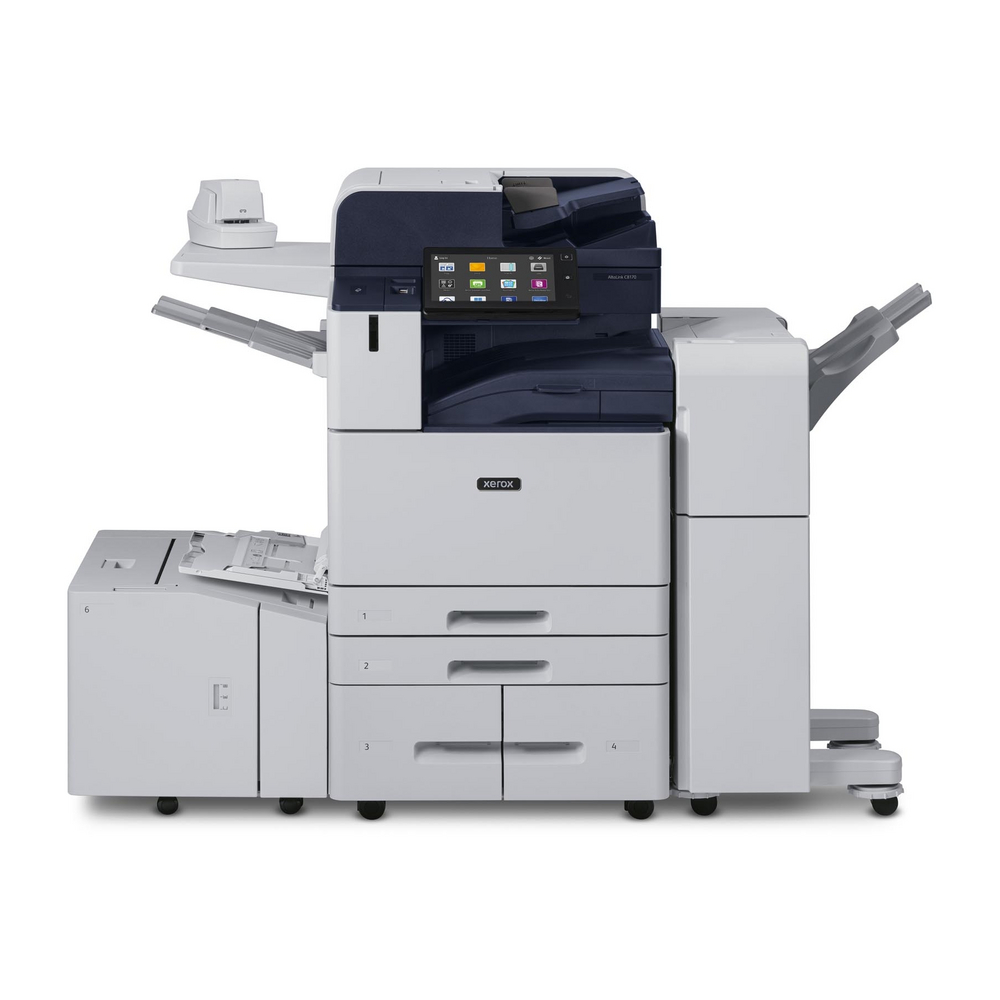 Mobile and Cloud Ready
Mobile Connectivity- Near Field Communication (NFC), Wifi, Apple AirPrint, and iBeacon (Bluetooth) compatibility
Mobile Printing and Scanning- Compatible with all sorts of mobile printing software such as AirPrint (iOS), Mopria (Android), Xerox Print Service, and Xerox Workplace Mobile App
Cloud-Ready- Upload and print directly from cloud repositories like Google Drive, Dropbox, and OneDrive
Enjoy direct connection to cloud repositories via optional apps on Xerox ConnectKey App Gallery
Comprehensive Security
Xerox offers the most robust security initiatives out of any copier/printer vendor, through its exclusive partnerships with Cisco and McAfee, and its inclusion of Network Security, Device Access, Data Protection, and Document Security. To learn more, read our article on Xerox's Comprehensive Security Initiatives.
Xerox ConnectKey App Gallery
Through its tablet-like interface, ConnectKey provides access to various apps that can automate workflows, instantly translate documents, scan to cloud repositories, and so much more.
Related Reading: What is Xerox ConnectKey Technology?
Available Upgrades
High-Capacity Feeder: holds 3,000 sheets of letter/A4 paper, increasing the maximum capacity to 6,140 sheets.   
Long Sheet Feed Kit: Provides the ability to print up to 12.6 x 52 in./320 x 1320 mm. Media.   
Office Finisher: Provides advanced finishing functions – crease/score and optional saddle-stitch booklet maker. Capable of making 60-page booklets (2 to 15 sheets).  
Business Ready (BR) Finisher: advanced finishing functions such as stapling and hole punching.   
BR Booklet Maker Finisher: Creates 64-page saddle-stitched booklets (2 to 16 sheets).   
C-Fold/Z-Fold Unit: Adds C-fold, Z-fold, and Z-half-fold to the BR finisher/BR Booklet Maker Finisher.   
Dual Offset Catch Tray: Only available if no finishers are installed – single offset tray with finishers.   
Integrated Office Finisher: Provides 500-sheet stacking and 50-sheet, 2-position stapling.   
Convenience Stapler: Staples up to 50 sheets of 20 lb./75 gsm media.   
Envelope Kit: provides feeding of up to 60 envelopes.   
Pros of the AltaLink C8145
The Xerox AltaLink C8145 is a very versatile machine, positioned right between the bigger C8155 and the smaller C8130, it's a perfect Goldilocks-style medium for organizations that need a robust machine with excellent quality and several finishing options.
Cons of the Xerox AltaLink C8145
With only 45 prints per minute, some organizations might need a machine that's capable of printing faster in order to keep up with their printing demands. It also might be a bit too pricey for some businesses who are looking to stay within a strict budget.
Who is the AltaLink C8145 a Good Fit for?
The Xerox AltaLink C8145 is an excellent fit for any business that wants a high-productivity machine with advanced security features, reliability, high-quality print outputs, automated workflows, and advanced finishing options.
Who is the Xerox AltaLink C8145 NOT a Good Fit for?
This machine is not a good fit for businesses that don't have a high demand for a feature-rich machine, with small workgroups, and small space for printing equipment. This is a robust machine that will not fit on a desktop or in a small environment like cubicles. It is also not for organizations that print more than the recommended monthly print volume of 8,000-20,000.
Overall Cost
Currently, for the AltaLink C8145 you can expect to pay around $10,900. Of course, this can vary with the additional upgrades available for purchase, or if you're a part of a purchasing co-op. Some companies might offer a discount if you have a trade-in available as well. For more information regarding costs, we recommend checking out our blog, "How Much Does Leasing/Purchasing a Copier Cost?"  
Think the Xerox AltaLink C8145 Might Be Right for You?
After reading this review you now have a good in-depth understanding of the Xerox AltaLink C8145, and you have a clearer idea if it's a good fit for you and your organization. You can approach any sales conversation with the upper hand, and the confidence you need to know you're making the right decision.
If you'd like to move forward with the AltaLink C8145, reach out to us here at STPT, and we'll assist you in getting the multifunction printer that your office needs.
If the AltaLink C8145 doesn't sound like it's the machine for you, check out some of the similar options we offer such as the VersaLink C7030 or the AltaLink C8155.