If you are browsing any retail giant for a copier/printer, your company may be looking to replace an old machine. Maybe yours is about to give out, or worse, already has. Or perhaps you've been using separate machines for print, scan, copy, and fax jobs and are now looking for a device that can do them all in one.
No matter the reason, at some point, your business will most likely have to address the need for a multi-function printer, also known as MFP. MFPs include print, copy, scan, and fax all in one machine.
Retail giants sell retail MFPs, which are designed for home use. Copier vendors local to your area and dedicated to selling commercial MFPs designed for your specific business or home needs in mind. These vendors are also dedicated to maintaining your copier/printer through maintenance plans that come with highly tenured service technicians, ready to solve any issues that may arise.
In case you planned on heading to your closest retail giant or just shopping online for a copier/printer, we wanted to address the reasons why it will likely cost you more money and time in the long run.
Cheaper copiers are inexpensive to buy but costly to use
The thought of buying a $300 copier from any retail giant may sound nice because of the low cost. However, for a few different reasons, they are more expensive to use compared to purchasing or leasing an MFP designed for your specific business needs.
1. Toner
With a retail MFP, you pay a hefty price to replace your toner when needed. If you purchase or lease from STPT, toner is included in the service offerings, saving you more money and time in the long run.
If you decide to purchase a retail MFP, you'll need to know how much ink you are using per paper, your ink coverage. This determines how often you will be repurchasing toner.
As a consumer, it's hard to judge how much ink you are using per print. With a commercial MFP, this doesn't matter, you are charged by the page, not ink coverage. This removes an unknown component and makes it easy to understand how much each page cost.
2. Service and repairs
Copiers/printers from retail giants like Wal-Mart, Amazon, or Office Depot are designed for replacement, not repairs. Once they give out, you will struggle to find a place to fix the machine and will most likely have to buy a new one. When purchased or leased from copier vendors, maintenance and onsite service technicians are part of our service offerings. This way, you always have a working machine.
3. Cost per page
One thing most people aren't aware of is that you pay more per page with retail giant sold printers. For B&W prints, you'll pay around $0.035 and for color, $0.17 per page.
With a commercial MFP, your price per page drops to around $0.017 for black and $0.11 for color.
These may seem like small numbers, but when you do the math of how much you print, it adds up fast.
Retail MFPs also require repurchasing of parts, such as a belt or drum unit, or waste toners. These items, also known as consumable parts, add up month after month. With commercial MFPs, the parts plus onsite service technicians to install them, are included in the service offerings.
Below, we have an example of how much money you are paying per page with a retail printer versus a commercial MFP.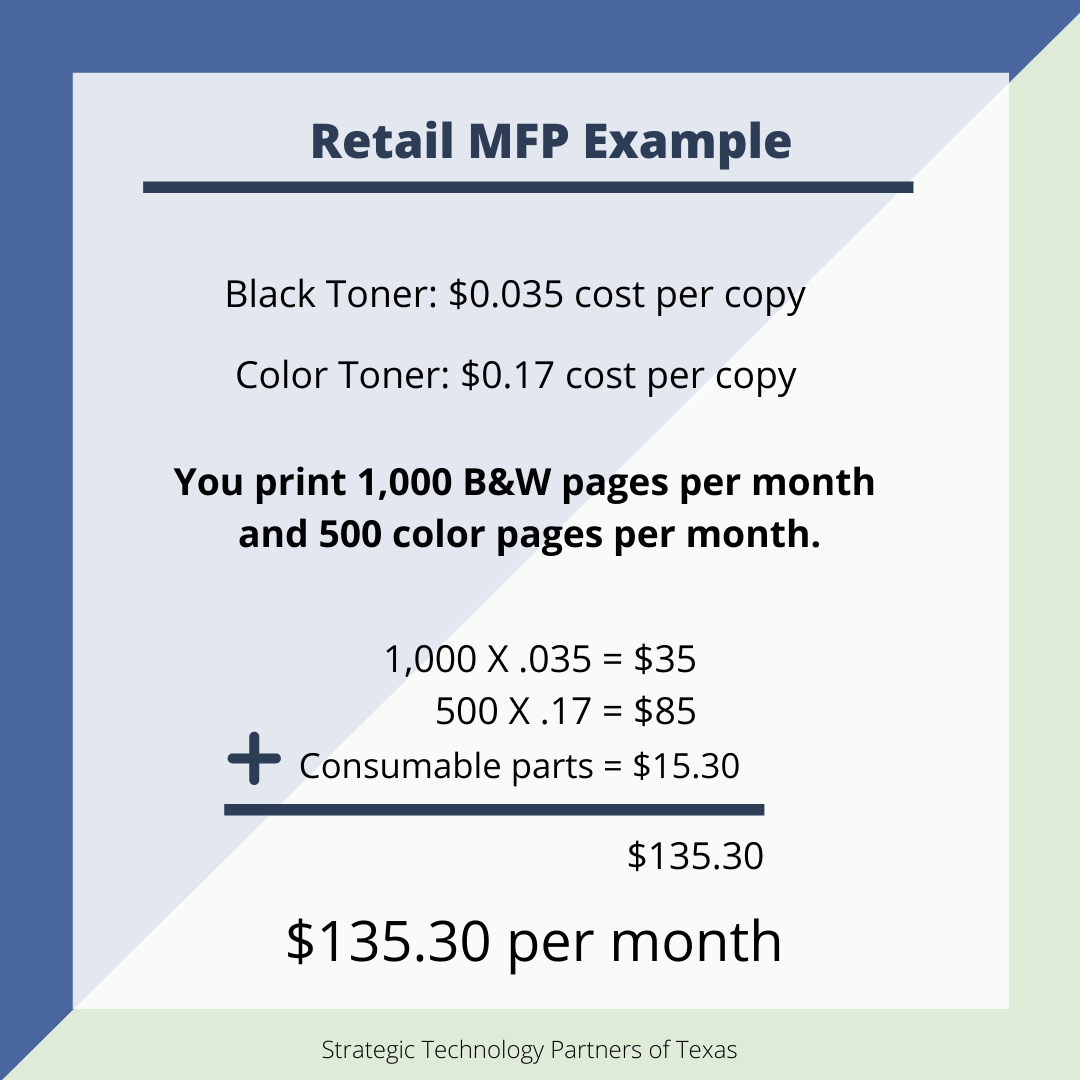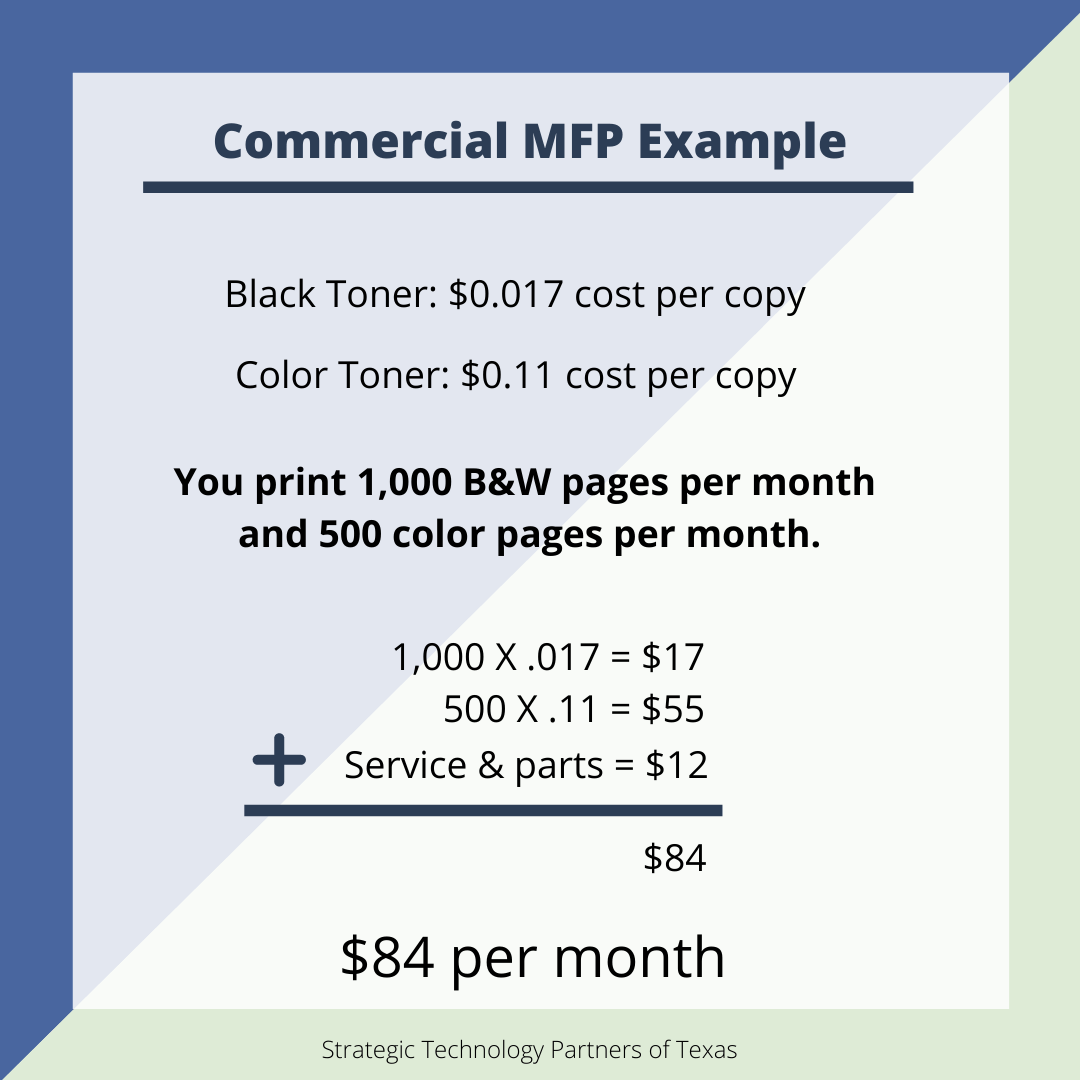 Of course, these are average prices. You could be printing more or less than the example, which will have a direct impact on your cost. These examples also do not include the cost of the MFP itself.
These factors contribute to what we call your total cost of ownership. Due to toner expense, cost per page, maintenance, service, and consumable parts, the total cost of ownership ends up being higher on retail-bought copier/printer. To get a better understanding of the total cost of a copier/printer, check out this article.
If you're using a retail bought printer, your total cost of ownership is likely more and doesn't provide the full-service offerings that remove any worry or problems you could encounter. Leasing or purchasing a commercial MFP will save you time and money in the long run.
When should you buy a retail copier/printer?
If you need a copier/printer that you only use a few times a month, then it probably wouldn't make sense to lease a commercial MFP.
If you're looking for a copier/printer for personal use but still want the convenience and ease of a commercial MFP and its service offerings, we also offer retail-styled MFPs. We still advise you to talk to your sales rep to decide which will fit your business best.
Quality should be top priority
Quality should be a top priority so that you are never:
Stuck purchasing expensive toner and supplies

Dealing with a broken printer

Spending a high cost per page
At Strategic Technology Partners of Texas, we are dedicated to making sure you have a multi-function printer that fits your business and employees' needs at a cost that fits your budget.