Print, Scan, Fax, Email, it does all these functions on an efficient level. Multifunction printers, like the Xerox VersaLink B625, require quite a lot of research and aren't the cheapest of options on the market. However, they're certainly worth the investment if you feel it is the right choice for you.
When you buy a machine of this caliber, you expect it to last a long time, be effective and efficient and satisfy your needs. You want to avoid frustration and regret of spending thousands of dollars on something you hoped would help you.
With almost four decades of expertise in the printing sector, our job is to help you make the best-informed decision for yourself with the device you want to buy. We understand that there is a need for accurate and impartial information when it comes to printers and copiers and we're here to use our almost four decades of expertise to fill that need.
We sell Xerox products and give detailed reviews of their products, so you know to come here first before deciding to open your wallet.
Honesty is what drives our content-making process. Knowing we can tell you upfront that this machine, and Xerox as a brand, will not be for everyone is a luxury we allow ourselves to have when informing others of options in the printing industry.
Truthfully speaking, we know there are a lot of brands that manufacture and sell office machines. We advise to u to always vet out your options before purchasing a printer. However, because we have such strong knowledge with Xerox products, we'll be speaking on what we know best.
Now it's time to review of the Xerox VersaLink B625, which will cover the machine's specifications, features, accessories, pros, cons and cost. Then we will look at why it may or may not be the best fit for you and some options that can be. No matter what, you'll end this article feeling educated and better informed on what to decide on going forward.
Xerox VersaLink B625 Basics   
Here are some general statistics and information to help you get a feel for print speed, volume, resolution and cost:    
One-Sided Print Speed: Up to 65 ppm (pages per minute)   
Recommended Average Monthly Print Volume: Up to 30,000 pages
Monthly Duty Cycle: Up to 300,000 pages/month    
Maximum Print Resolution: 1200 x 1200 dpi (dots per inch)   
Copy Resolution: 600 x 600 dpi
First-Page-Out Time Printing: As fast as 4.1 seconds   
Base Model Dimensions: 20" x 22.8"
Base Model Weight: 97.2 pounds
Cost: Starting at around $2,799   
For a look at the VersaLink B625 base model, see the picture below: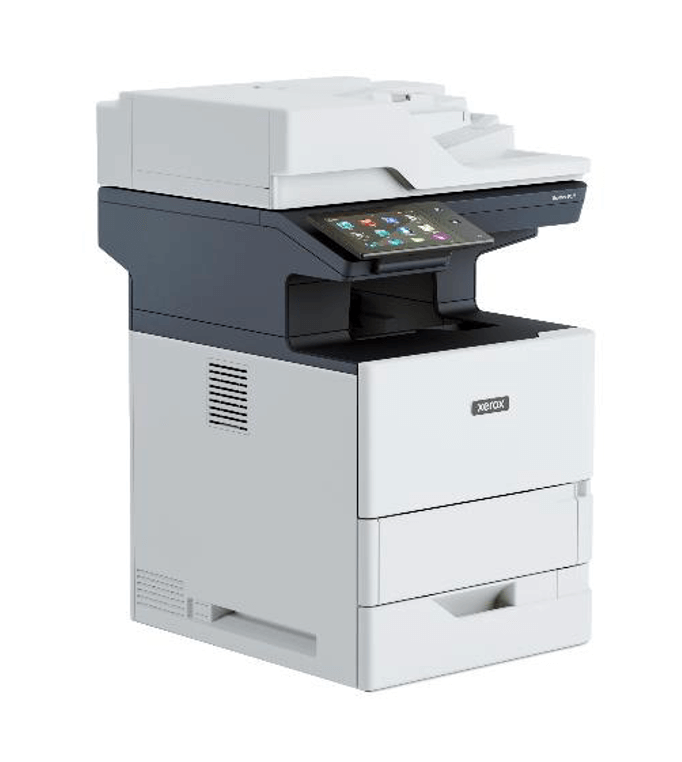 Xerox VersaLink B625 Key Features 
Now, let's look at some of the key features that come with the VersaLink B625 printer.      
Touchscreen Interface and App Gallery   
The Xerox VersaLink B625 multifunction printer (MFP) contains a customizable, seven-inch tablet-like touchscreen that allows you a simple and effective way to complete printing tasks.   
You can tailor the user interface to your business's goals by choosing from the numerous applications on Xerox's App Gallery. A few examples include:   
Connect for Dropbox

, which lets you store and pull documents from the cloud storage service, Dropbox. The app costs $10 per month, $99 per year or $208 for three years.   

@Supplies Tracker

, which is a free app that is used to track your shipments and deliveries. You can also select which orders you want, get valuable informational updates on them and also delivery information on your packages too.

Quick Link

, which is a free application that allows you to connect to your laptop, computer or mobile device from your printer via an email or QR code scan.
The Quick Link app, courtesy of Xerox:
The Xerox App Gallery contains a plethora of applications that can assist with increasing office productivity. For more information on the different kinds of apps, here are some blogs to check out:   
The touchscreen interface and app gallery are a part of Xerox's ConnectKey technology, which allows you to convert hard-copy records into accessible cloud-based documents as well as access to control your printer from your smartphone.  
Printer Security   
The VersaLink B625 contains a four-point approach to security that'll help prevent, detect and protect against cyberattacks at all points of vulnerability.   
According to Xerox's website, these include:   
Prevention of unauthorized access

Detection of suspicious or malicious behavior

Heavy protection of data and documents

External Partnerships with Trellix and Cisco to help with threat and
Security breaches.  
Trellix (formerly known as McAfee Enterprise business)- relatively new cybersecurity company that provides hardware, software and services to investigate IT security risks.
Cisco's Identity Services Engine (ISE), which can "auto-detect Xerox devices on the network and classify them as printers for security policy implementation and compliance," according to Xerox.          
It's helpful to inform yourself of the security measures that companies are taking before making a purchasing decision. To learn more about printer security, read these blogs:                       
Additional Configuration Options for Xerox VersaLink B625  
Let's take a look at the different accessories and configuration options that will allow you to customize and upgrade your machine in ways that best optimize your business needs:   
The Convenience Stapler that staples up to 20 sheets

550-sheet document feeders (up to 3) for a total paper capacity of 2,850 pages

Wireless Network Adapter  

2,100-Sheet Tray adds higher capacity  

A four-bin mailbox (100 sheets per bin)

500+GB Hard Disk   

Center Base which allows for easy moving

Printer stand
The dimensions of the print will vary in height in weight depending on the accessories you choose. Before purchasing, make sure you consult your vendor on which optional accessories to get for your machine.
For a look at the of VersaLink B625 with additional upgrades, see the picture below, courtesy of :   
2 Pros of the Xerox VersaLink B625  
Let's take a look at the advantages of purchasing the VersaLink B625,
1. Large Printing Capacity  
With a recommended average monthly print volume of up to 30,000 pages and a duty cycle of up to 300,000 pages per month, the VersaLink B625 is built to handle a sizable printing capacity for workgroups of up to 12-20 daily users. 
To better protect the products lifespan, we always recommend you always follow the recommended monthly print volume. We know the machine can technically print up to 300,000 pages per month, but it is always good to take precaution in the beginning.
To learn more about print volume and duty cycle, read these blogs:  
2. All-In-One Printing Solution  
The great thing about the multifunctional printer is that you know once you have it, you have a device that can do so much more than expected. The benefit of investing in the Xerox VersaLink B625 is that you're getting a machine that not only prints but also operates as your scanner, fax machine, and copier.
You won't have to worry about spending more money on other devices that do these individual tasks because you have one that can do it all.
Here are some blogs that could answers some questions you have about multifunctional printers: 
2 Cons of the Xerox VersaLink B625   
Now it's time to look at some of the disadvantages of purchasing a VersaLink B625:  
1. No Color Printing Capabilities  
A glaring downside of the VersaLink B625 it unfortunately does not print in color. If this is a requirement for you, then you would want to look at a color multifunction printer. The same properties, but you can also print in color.
Read our review blog on the VersaLink C415 here to get. A better look at the model and specifications,
2. Cannot Print Tabloid or Large-Sized Prints  
Something else that is a negative to having the VersaLink B625 Another con to the VersaLink B615 is it cannot make prints larger than 8.5" x 14", which is your typical legal-sized paper. If you need to print on tabloid-sized paper (11" x 17") or higher, you will not be a fit for this machine.
Xerox VersaLink B625 Cost   
The base cost of the VersaLink B625 $2,79, which is $100 less than the predecessor model. Normally when an upgrade is available, you'd think you pay more. So, it's a pleasant surprise to get more, for less.
If you're ever unsure of your WIFI connection, or if you simply want to strength an already stable one, then we'd suggest a WIFI accessory. They are available here for $69.99. Also, for optimal mobility, it's always nice to have a stand tucked away in case you need to expand your space or move for even another printer. You can purchase those tend and other accessories here.
While being a relatively affordable option compared to other multifunction printers, such as the machines in the AltaLink C8100 series, the VersaLink B625 is not an inexpensive option. Obviously, a multifunction printer will almost always be more expensive than buying a single-function (print-only) printer. The benefits included with it make for a long last well established experience printing, copying and faxing that can help boost production and workplace morale.   
And even if you feel like you're unsure about the need for another printer in the workspace, we have these great blogs to help inform you some more on why the addition of a high-quality printer is always beneficial for a growing business:  
Who Is the Xerox VersaLink B625 a Good Fit for?    
The VersaLink B625 is a good fit for:   
Workgroups of 8 to 20 users that need to print/copy around 300,000 pages per month.  

Those looking for a multifunctional printer than can copy, fax, scan and has technological advancements and attachments such as the interface touchscreen.

Those looking to make a long-term printing investment for their workplace.

Those looking for a boost in their productivity, creativity and efficiency in printing needs.   

Workplaces that require devices with the highest level of cyber security.
If you fall into one of these categories, then the VersaLink B625 would be a great fit for you. However, you would want to take your time evaluating what you truly need in a printer. If by this point in the article, this printer sounds like what you're looking for, then you're at the right place to continue.
Who Is the Xerox VersaLink B625 Not a Good Fit for?   
The VersaLink B625 is not a good fit for:  
Small businesses that don't require 300,000 pages per month to be printed.

Large businesses that need to print more than 300,000 pages in a month.

Individuals searching for a single-function printer for personal use.   

Workgroups that require the ability to print or copy documents in color.  

Those looking for not as adaptable of a device.
If this describes you, then after reading this, try and read our blog on how to choose a printer for your budget and business needs to help with choosing the right model for you.  
Think the Xerox VersaLink B625 Is Right for You?  
The Xerox VersaLink B625 is a solid option for medium-to-large-sized workgroups that need a multifunction printer that can print at a large capacity and has advanced technological features.
However, we understand this machine will not be a fit for everyone. If you need a single-function printer, require color printing capabilities, or don't print near the machine's 300,000-page recommended monthly print volume, then you will not want to buy this machine.
If you're interested in the VersaLink B625 or need help finding the right machine, reach out to us and an experienced business consultant will be there to guide you through the next steps.