​The Amazon company is the powerhouse online shopping center we have all grown accustomed to. It has substantial merit behind it and sales numbers that are astronomical. From its inception as just an online bookstore, to the premier shopping outlet for quick, easy, and almost limitless creativity on options, it's a no-brainer why it's so popular.
However, we always mention here at Strategic Technology Partners of Texas that we have over 35 years of experience as a printer vendor, and our partnership with Xerox always gives us opportunities to learn more about products and inform you in ways you can't get from other websites.
Throughout this article, we will hopefully answer some common questions consumers have when thinking of what they want from a printer from the convenience of Amazon and what they get from searching with us.
It's fine to shop for a printer from wherever you want. However, it's nice to see why certain websites contain more information on what you're looking for, than other broader sites. Maybe you need to know detailed specifications of a model that you need by a certain deadline, and although Amazon can get it to you fast, you are not sure if it's the correct model you need.
All we want to do today is help you see the positives in taking a little more time in your printing searching journey and explore more than just basic options to get the most out of your selection. After all, it is you who is investing money into these machines, so you want to be sure you're getting all your bases covered before clicking submit on any website you're buying from.
Why do people buy printing machines from Amazon shopping online,

versus buying from our website?
It is quick and easy. When you arrive on the Amazon website, you're looking for something specific, and you aren't wanting to spend too much time on the website in case you end up stacking up your shopping cart. Plus, you don't have to engage with a salesperson. We do not have a shopping cart experience like Amazon and there is a good reason for that.
Below is a standard page that generates when you type in the search bar "Xerox Printer."
Figure 1 A screenshot of the search bar of Amazon's website Xerox Printer
The selection when you first arrive to typing in Xerox Printers into the search bar will bring up some multifunctional models and ads available to browse from. In the image below you can see a standard price and a small description of some of the printer's functions. If you are a normal shopper of Amazon, you know that this photo also contains customer reviews and suggestions for other products.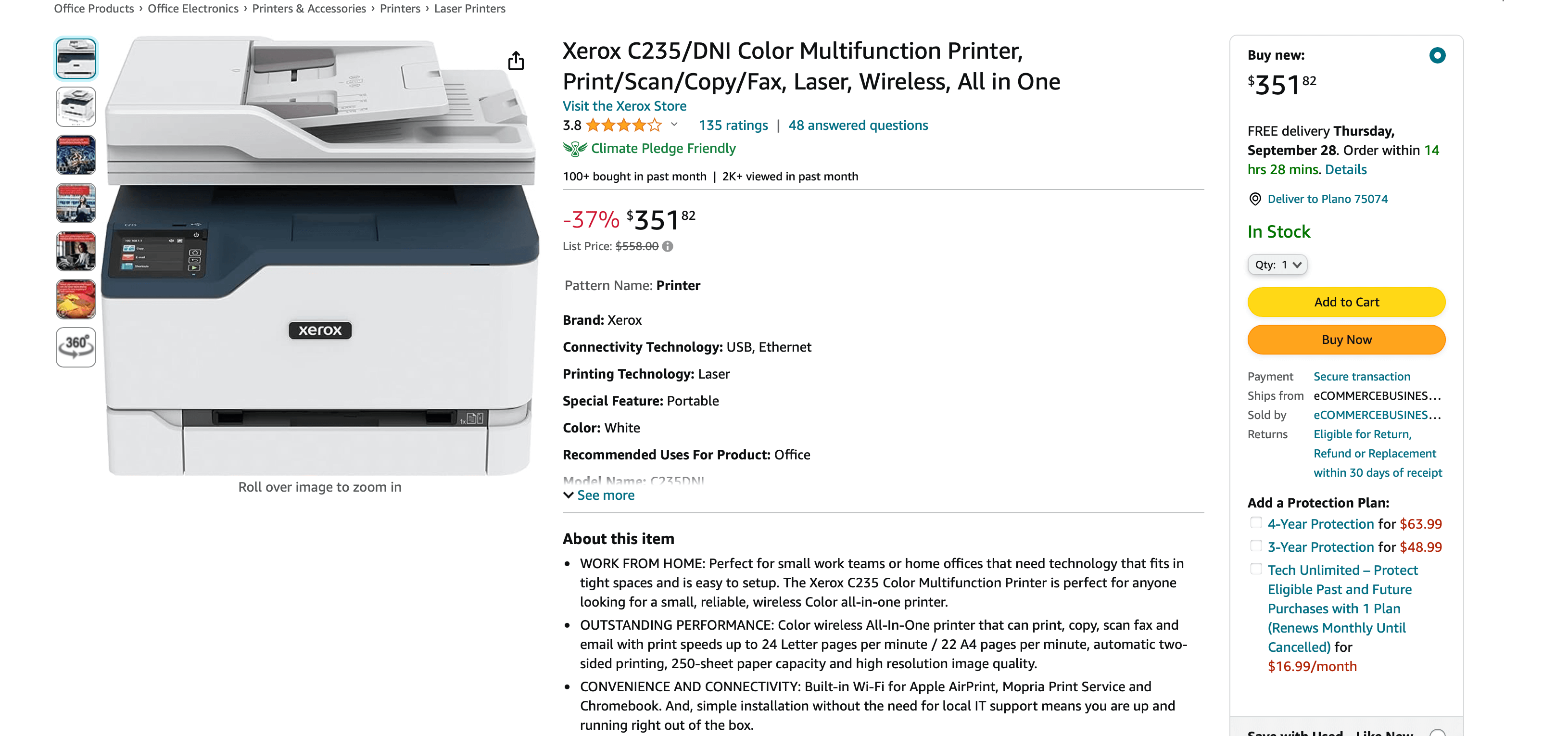 Figure 2 An Amazon screenshot image of the Xerox C235 Color Multifunctional printer
Amazon still does a good job putting together specifications and details of the device that are necessary for people to see if they are interested. However, some things are missing that could be important. One thing is that you will not see any photos of the printer in environments where it will be functional. You can get some promotional images from Xerox, but nothing that tells you how it looks in a place where you will be working with the printer. In addition, Amazon focuses a lot on selling you the item presented to you. We focus on educating you as well.
On our website in our learning center, we provide reviews of products like the one below: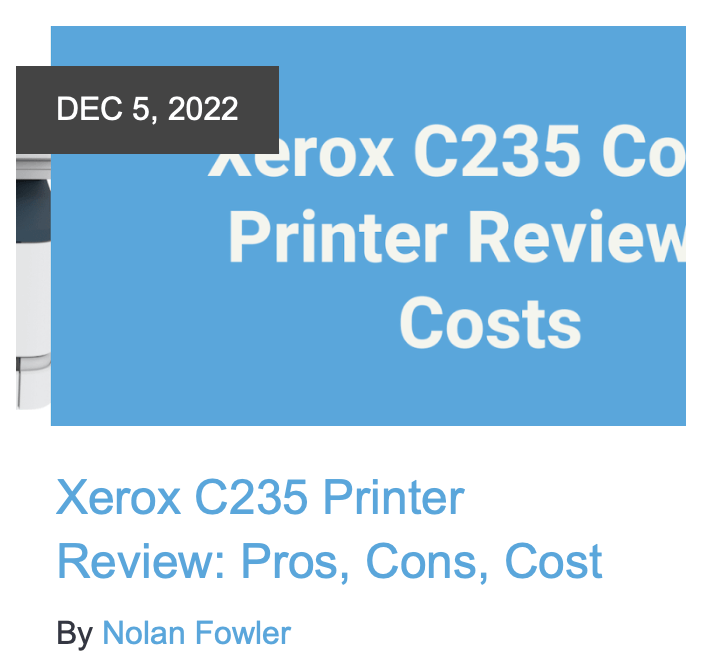 We always want you to stay educated on what it is you're investing your money into. We could have the "Buy now" button right at the bottom of the article, but what good does that do? What if you read this article and find something you don't like? Then, at least you found that out before just buying it. We don't want to have a shopping cart experience. We want you to finish the article and then determine if this is the printer for you or not.
If you're looking for simple things, like printing paper, toner, or even ink, you can financially take the burden of perhaps getting the wrong thing because Amazon has a vast selection of those products. However, with the printer itself, it's better to do as much research as possible.
These articles help, and give you information you won't find on Amazon:
What does Strategic Technology Partners of Texas offer when you shop on our website?
Having a consultant to conduct business with when wanting to invest in a printer is always helpful. They're there to help answer specific questions you have and educate you on what you need to know during your purchasing journey. It's not just about buying a printer for now, it's about the future as well. So, our consultants will also ask you about your future businesses and printing plans to stay in the loop and on top of updates and upgrades.
A glaring discrepancy between the two websites is that our website will have the most up-to-date models and versions you're looking for. Amazon won't have all the models. That can be a waste of time typing in different combinations of letters and numbers to ultimately fail at finding what you're looking for.
Our website has a learning center that houses previous and current models too. We have tons of articles that highlight not just the details of the product, but also scenarios you'd most likely use it in. References and links to our other articles can educate you even more.
Wouldn't it be nice to know that you need a new printer first, before just searching to buy one? Wouldn't it be nice to go to our website and find out your model has a few good years left on it before you throw some money out for a new one? We can help you determine how much longer you should be holding onto your printer too.
An article such as 4 Signs it May Be Time For a New Copier Printer (2023), is a great example of help you get even if you're unaware of the printing ecosystem.
Why should I consider buying from Strategic Partners of Texas next time I need a printer? Here are two big reasons why:
With us, we offer full installation and set-up of the product and additional assistance with onsite service and supplies.

We provide sales assistance and helpful instructions on deciding what to buy.
What's the turnaround time from each website when buying a printer?
As stated previously, Amazon has a phenomenal shipping speed. Normally you'd see your printer in about 4-5 days after you hit the submit button. Typically for us, our turnaround time can be a little bit longer than that. From order to install is around a week. If it's considered a special order, then the turnaround time could be two weeks.
However, we don't sell from the website without a salesperson involved. This adds a level of confirmation and understanding of the product you're getting and what else you might need for it. That's only because we do a throughout evaluation to make sure by the time the printer is done being installed, you're happy with it in every way possible.
Once again, buy a printer from wherever you want to. It's your money and your decision at the end of the day, we just wanted to bring your attention to other sites that can differ from the Amazon online shopping experience. The next time you shop for a printer or help with printing services, consider as many options as you can.
For more information on how to start a quote on a machine you're interested in, check out the image below to get started.

​