Because of the abundance of options on the market, finding the one printer model that perfectly aligns with what you require in a printer can feel overwhelming.
If not well-informed of all the intricacies that go into purchasing a printer, you might make a costly purchase that you will come to regret later.
To help you avoid this scenario, we will be using our 35 years of professional experience as a print vendor to bring you a thorough review of the Xerox VersaLink C505 color multifunction printer, including its features, upgrades, pros, cons, cost and whether it would be a fit for your document processes.
Because we partner with Xerox, we have gained expertise in the company's array of machines and products and can guide you through the learning process to help determine which machine will be the best fit for you. 
We understand that Xerox is not a fit for everybody and want to make sure to provide you with an analysis that will best equip you with the information you need to make a purchasing decision, no matter where it is.
Xerox VersaLink C505 Basics
Let's go over some of the basics of the VersaLink C505 model, including print speed, volume and resolution, as well as size and cost.  
Print Speed: 45 prints per minute for color and black-and-white

Monthly Duty Cycle: 120,000 pages

Recommended Monthly Print Volume: 10,000 pages* 

Print Resolution: 1200x2400 dpi (dots per inch)

Copy Resolution: 600 x 400 dpi

Minimum Dimensions: 18.5 X 19.9 x 25.3 in.

Base Model Weight: 77.2 lbs.

Document Feeder: Holds 100 sheets of paper 

Workgroup Size: 5-15 

Base Cost: Around $2,299
*Remember to follow the recommended printing cycle, not the duty cycle. The duty cycle displays the power of the machine, but if you print this number each month, you will experience premature service issues. 
Read our blog to learn the differences between duty cycle and monthly print volume for more information.
Base model of the VersaLink C505:
Key Feature: ConnectKey Technology 
Through the tablet-like interface, ConnectKey technology provides mobile and cloud access, benchmark printer security, and managed print services to keep your printing costs under control.  
Additionally, ConnectKey provides a gallery of apps that enhance office productivity and streamline business processes. 
Examples of applications on the Xerox App Gallery include:
Connect for DocuSign,

which is an application that can aid daily business interactions

 

by eliminating approval bottlenecks and keeping essential agreements moving forward quickly and efficiently. The price of the app is $14 a month, $149 a year or $315 for three years, and there is a 30-day free trial available. You must have a DocuSign account to access the app.

QuickBooks Online

, which links users directly to the QuickBooks service to quicken the expense reporting process. The app will let you scan multiple receipts at once, preview the receipts, edit and submit the data fields and notify the approver from the device. The price of the app is $20 for 100 receipts, $69 for 500 receipts and $99 for 1000 receipts, and you must have an existing QuickBooks Online account and access to a computer to use the app.

Et-Survey

, which lets you create a customized survey and display it on your printer's home screen, where users can reply to it. The app requires a one-year subscription of $50 per device.
Read our blog about Xerox's ConnectKey technology for a more in-depth look at the features that come with it.
Upgrades for the Xerox VersaLink C505 
Below are some optional features and accessories you can add to your machine. To decide whether these optional upgrades are right for you, it's best to consult your print vendor to determine which accessories are necessary to meet your printing goals.
Paper Trays and Additional Storage  
The VersaLink C505 allows you to add four additional paper trays, with each paper tray able to hold a capacity of 550 sheets. If you know your business will go through several reams of paper each month, it might be helpful to invest in the extra paper capacity to increase productivity. 
You can also add a cabinet to provide storage for toner cartridges and other printing supplies.
Paper tray cost: Around $300  
Stand cost: Around $250 
High-Capacity Paper Feeder  
The VersaLink C505 also can include a high-capacity paper feeder that can hold an extra 2,000 sheets of standard sizes. This is a useful accessory if your workgroup prints at a high volume.
Cost: Around $650 
Y-Soft Print Management  
Y-Soft's print management software, SafeQ, is also an available feature for the VersaLink C505.
Y-Soft allows you to track what and how much each department or individual is printing or copying. From there, you can set individual or department limits to ensure you are not exceeding your printing budget. 
Y-Soft also has the capabilities to ensure you are not wasting money printing or copying color prints by setting limits to what programs can print in color. For example, we recommend blocking programs like Gmail or Outlook from color printing to save you money. 
For more information on how Y Soft can help you track, analyze, and take action to control printing costs, check out this article:
VersaLink C505 with stand and additional upgrades: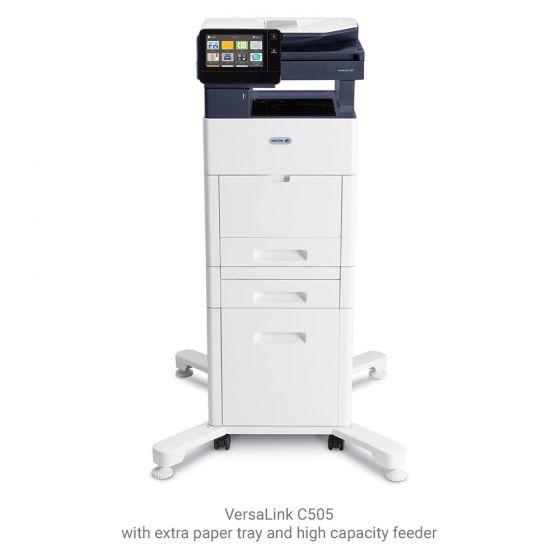 4 Pros of the Xerox VersaLink C505
Below are some of the main pros of the VersaLink C505:
1. Large Printing Capacity
The VersaLink C505 is a reliable machine that can withstand a monthly print volume of 10,000 pages for a sustained period of time. Because of its capacity for a large print volume, it can serve as an option for workplaces of up to 15 users.
2. Built to Last
In addition to a large printing capacity, the VersaLink C505 is durable and built to act as a permanent solution for your workplace. This should result in fewer service issues and less maintenance work if you follow the monthly print volume recommendations.
3. Affordable Printing Option for Small Businesses
Compared to other Xerox color multifunction printers, the VersaLink C505 is relatively affordable. Models such as the AltaLink C8000 series or the PrimeLink C9065 can be costly and the VersaLink C505 model offers a color multifunction printing option for small businesses at a more affordable price.
Additionally, the VersaLink C505 can be leased, which would break down the total cost into monthly payments. To learn more about lease contracts for printers/copiers, read these blogs:
4. Fits in Compacted Workspaces
For a color multifunction printer, the VersaLink C505's size allows it to fit in small workplaces while still having the capability to print at a high volume with fast print speeds. Its minimum dimensions are 18.5 x 19.9 x 25.3 in.
3 Cons of the Xerox VersaLink C505
Below are some of the main cons of the VersaLink C505:
1. High Cost for Small Budgets
While considered affordable compared to similar models, the VersaLink C505 is listed at a base price of $2,299. No matter what your financial means are, that is an expense not to be taken lightly.
While investing in a durable multifunction printer is a smart long-term investment, if your budget for office equipment does not allow for purchase in this price range, then this printer is not a fit for you.
2. No Print Finishing Options
Additionally, the VersaLink C505 does not have print finishing options, such as stapling or hole-punch. If you are a business that requires print finishing options, then you would want to look at a color multifunction printer that contains finishing features.
3. Incapable of Printing Certain Paper Sizes
The VersaLink C505 does not have the capability to print 11 x 17 prints (tabloid), or anything larger than 8 ½ x 14 in, which is standard legal-sized paper. If you need a printer that can print larger prints, then this is not the printer model for you.  
Who Is the Xerox VersaLink C505 a Good Fit for?  
This VersaLink C505 is a good fit for: 
Workgroups of 5-15 users  

Small businesses 

Those looking to purchase an efficient printer with advanced technology 

Those looking to make a long-term printing investment 

Those who print majority black-and-white (If you print mostly color, check out the VersaLink C605) 

Good as a backup printer option
If you resonate with the points above, then this could be the model for you. However, it is best to talk to a business consultant first to discuss your specific print needs, monthly print volume and budget before making a purchase.
Who Is the Xerox VersaLink C505 Not a Good Fit for? 
Those who are not a good fit for the VersaLink C505 are: 
Businesses with a small office equipment budget. 

Those searching for a printer for personal use. 

Those who require finishing options on their printer.

Those who need to copy or print on anything larger than 8 ½ x 14 in.

Those who produce more than 8,000 prints per month.

Those that have a high color print volume (Over 120,000 images a month). 
If you fall into one of these categories, then this is most likely not the model for you. Read our blog over how to choose a printer for your budget and business needs to help with choosing the right model for you.
Xerox VersaLink C505/S vs. Xerox VersaLink C505/X
There are two different types of models in the VersaLink C505 series: the C505/S and the C505/X.
They contain the same basic features, but the C505/X includes additional configuration options, such as a 250 GB hard drive, and more document security enhancements, such as Secure Print and Secure Fax. The main difference is that the C505/X has analog fax and the C505/S does not.
The base cost of the VersaLink C505X is around $2,599, while the base cost of the VersaLink C505/S is around $2,299. This cost does not include tax, shipping, additional features, or a managed service contract that you may want to opt into upon purchase. 
However, there are often promotional incentives and discounts that you might want to inquire about if interested in purchasing. Contact your print vendor to see what promotions, if any, they are running at your particular buying time.
The exact cost of a printer will depend on several factors, such as what upgrades or accessories you might require and any applications you would want to invest in for your business.
Think the Xerox VersaLink C505 Is Right for You?
The VersaLink C505 serves an an all-around solid choice for those that need a printer to conduct multiple tasks, like copy, scan, fax and print, while also providing for upgrades and accessories you may need for a color multifunction printer. 
However, this model is not a fit for businesses that do not have the budget to invest in a permanent color multifunction printer or require finishing options and the ability to print on 11 x 17 paper.
Our goal here at Strategic Technology Partners of Texas is to use our industry knowledge and experience with office equipment to provide an honest analysis to help determine which printer is right for you.
If you would like to inquire about the VersaLink C505 or need any additional information, reach out to us and we will do our best to assist you.