How to quickly use the Xerox Summarizer App (step by step)
At STPT, we make it our goal to provide quality printing information that is easy to understand, so you know where to go to find answers to your print questions.
We provide quick how-to printing tutorials with video, photo, and written instructions so you can easily solve your printing problems.
We use our printer expertise to help you solve printer tech problems quickly and simply with helpful how-to guides like this one.
Using a how-to guide like this one streamlines the learning process, so you can rely on a knowledgeable print expert to walk you through any application installations and projects you'd want to work on.
Take the pressure off by trusting our STPT printer specialists to help you through it. With almost 40 years in the business, our team has the expertise to make the replacement process quick and easy for you
What is the Xerox Summarizer App?
Today's world can feel like an information overload. At points in your life, there's simply not enough time to read everything. This is when you'd need someone, or something to help summarize it in a quick informative format. Xerox has an app or this. The purpose is got give more easily digestible insightful summaries. The goals are also to be more productive, improve accessibility, and being more sustainable by reducing the amount of large email attachments.
With the help of artificial intelligence (AI), Xerox Summarizer condenses dozens or even hundreds of pages by reducing the original scanned document to a percentage of the original or can create a short and concise interpretation of the source text. A quick and useful way to summarize textual data to reduce reading time, help with research, or identify the main idea of material for a relevant and fast uptake of information.
Step 1: Open the Xerox Summarizer App
When the Summarizer app appears on the screen, open up the app to start the process.
Step 2: Load paper into the document feeder.
Step 3: Select 'summarization type'
There are a few summarization-type options available.
Extractive: Reduce the length of your original document losing key points.
Abstractive: Receive a short, concise interpretation of your original document with AI-driven technology.
Step 4: Select 'percentage'
You then can select the length of the original document. This ranges from 5%-90% of the document to be used.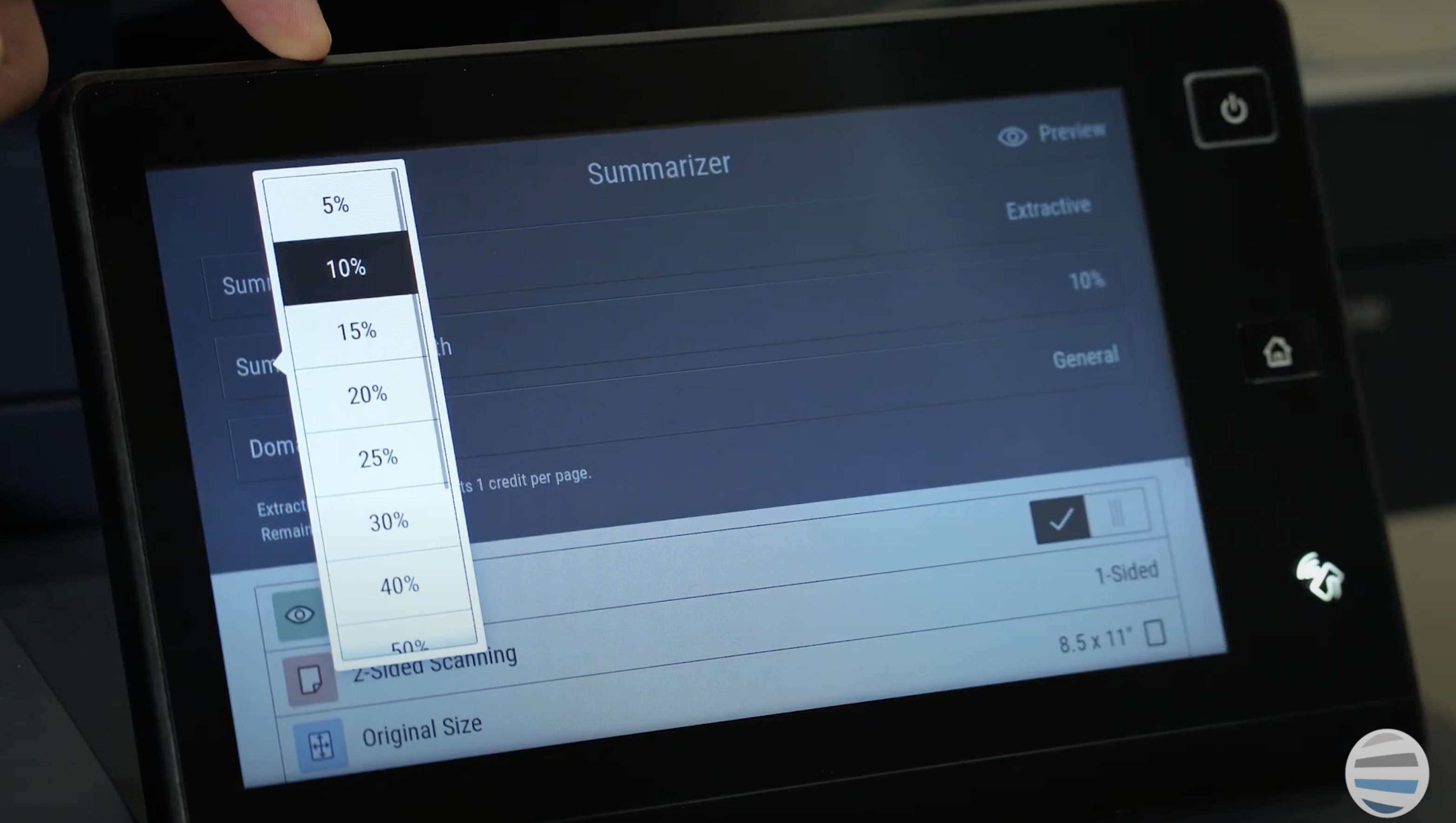 Step 5: Select 'domain'
In this step, you'll be selecting the type of language you want the document to read in. Not language as in Spanish, German, or English, but choosing what background you'd want the document to be in.
Education

: Summarize articles, papers, and research material to boost reading comprehension.

Insurance

: Extract and analyze critical information contained in policies, clauses, and more.

Legal

: Concise summaries of cases and minutes help you get more out of every billable hour.
You can also preview your document and decide if you want to do one- or two-sided scanning. You can also select the original size and
finally, choose if you want your results printed or emailed out.
Step 6: Select 'preview'
Once you hit preview, the printer will start scanning and analyzing your document. Once it has been scanned and understood the document and preview will appear on the screen of the percentage of document you wanted summarized.
Step 7: Select 'continue'
If you like the results displayed on the screen, then you can press continue and it will either email or print the results based on your selection in step 5.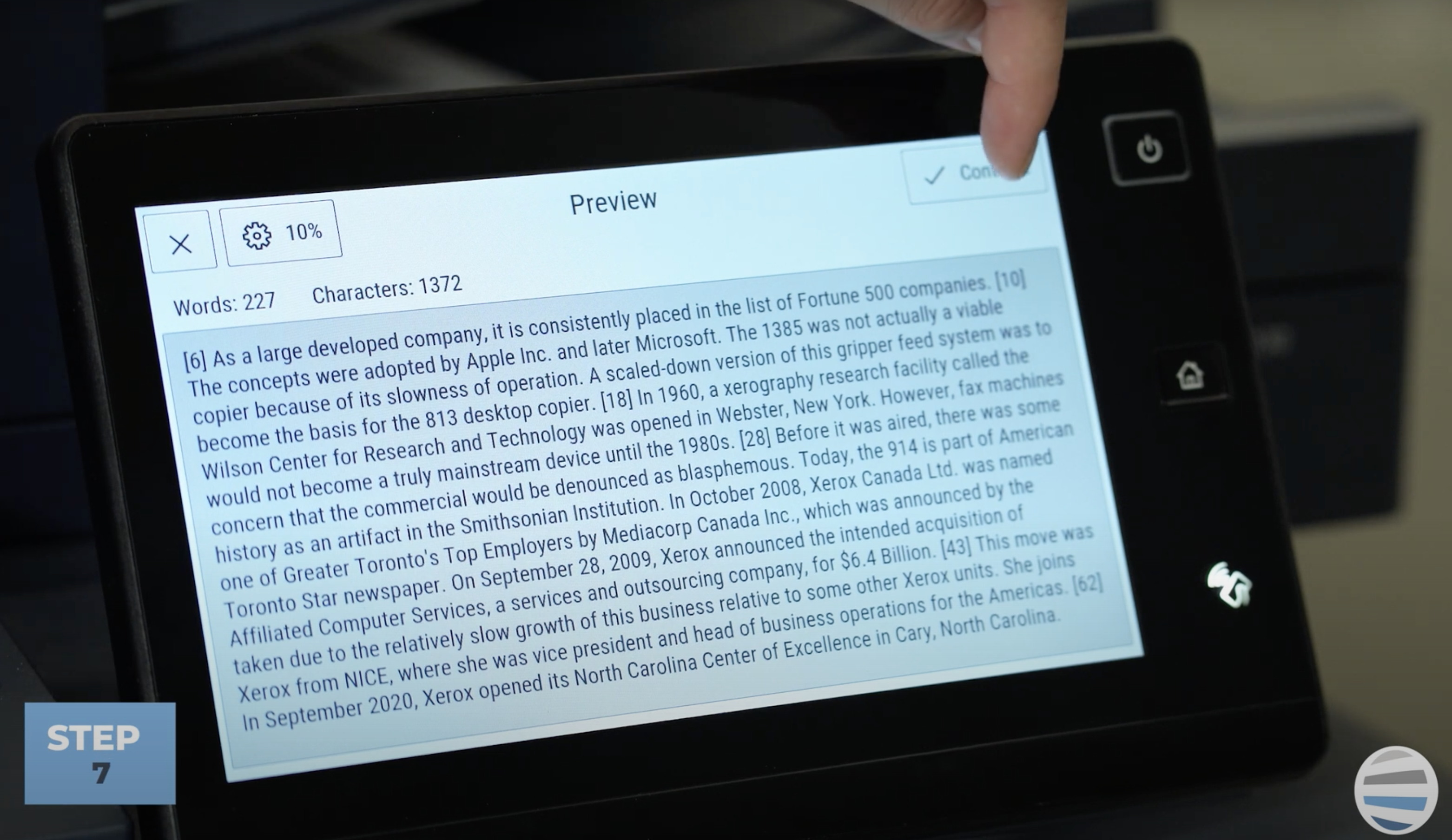 You can also choose to get the abstractive form of the document. This form could potentially contain new phrases and sentences that may not have appeared in the source material. You'll be given the same options as before to select the language and pages you want.
Cost of the Xerox Summarizer app.
The price breakdown of the app is done in credits.
250 credits costs around $50.

1,000 Credits costs around $160.

5,000 Credits costs around $660.
Before ever purchasing these apps or any devices that require them, make sure to budget effectively for your own personal use or business. In addition to this, make sure to read and see if Xerox Printing apps are even right for you. Here are some blogs to read to get a clear foresight on budgeting for office workflow productivity and the strategy behind it.
How STPT Can Help Automate Your Workflow
STPT is a print vendor that can help you automate your workflows. We simplify the set-up process for our customers so that you don't have to waste time doing it yourself. 
Our goal is to make office management easier for you and your team. We offer a variety of services and products to help you create a stress-free office environment.
We value time spent with our customers, and we want to spend that time making life easier for you and your team.
Reach out to us today for more information about installing Xerox Gallery Applications.