Looking for the right multifunction printer for your office can be a tedious task. With so many different brands to choose from, all with their distinct advantages and price points, it can be overwhelming, especially if you understand the importance of choosing the right machine.
As a copier/printer vendor that's been in the industry for 35 years, we have a lot of knowledge when it comes to which print features certain organizations might be looking for. We work closely with many businesses to determine their budget, print volume, and desired functions, to make sure that they have everything they need for their business to be as productive as possible. In our time as a vendor, we've interacted with plenty of customers who are all interested in the differences and similarities between printer brands.
Because of this, we've decided to compare two similarly sized multifunction printers, the Xerox AltaLink C8130 and the Toshiba e-STUDIO 3015AC to highlight the advantages and disadvantages of both and give an accurate representation of features that businesses might be looking for. This way you can determine if one of these options is the right choice for you and know that you're making an informed decision.
It's important to note that while we do sell Xerox products, we strive to be as objective and as informational as possible when comparing these two devices so that you can get an accurate picture of what each machine is capable of.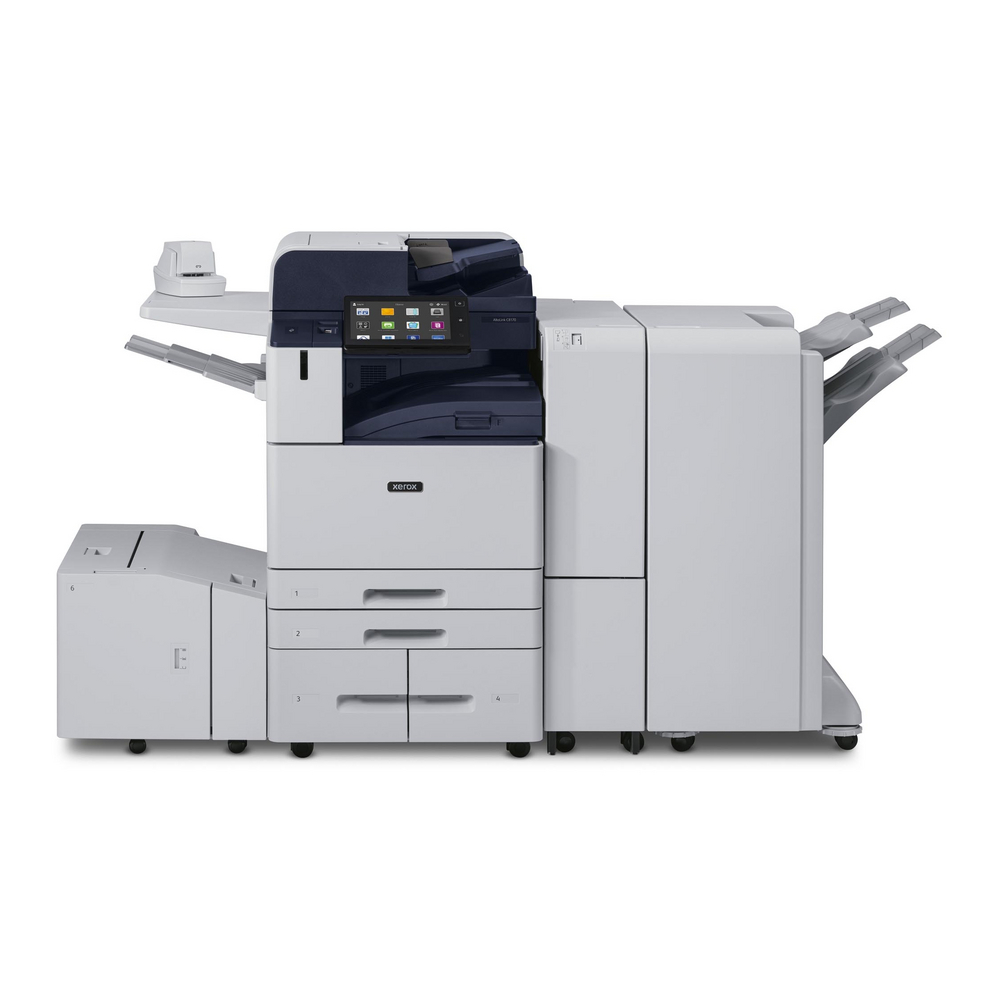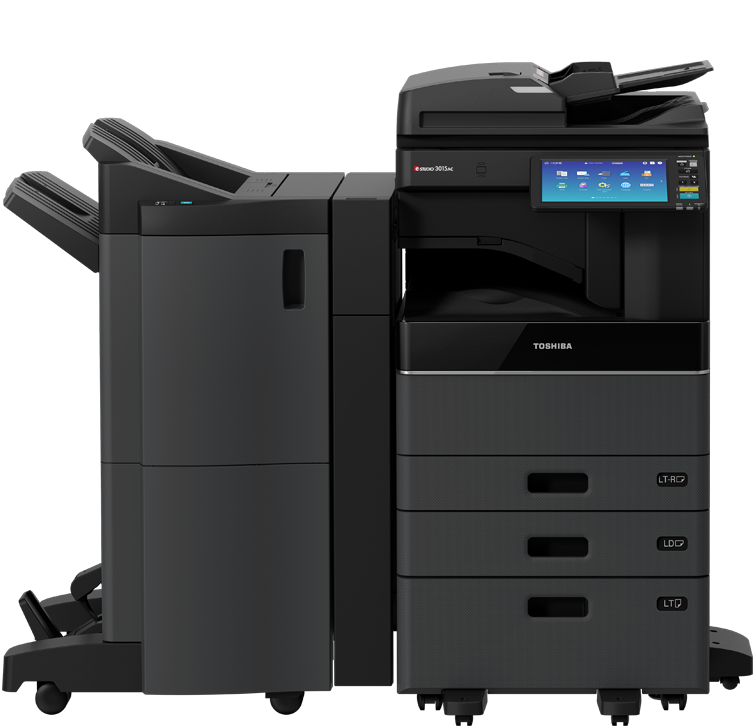 Basic Printing Stats and Specs
Basic stats and specifications include the simple performative features of each machine, specifically print speed and resolution, but for larger devices like these two models, max media length (the largest paper size that can be printed onto) becomes important as well.
Xerox AltaLink C8130 Specs
AltaLink 8130 Print Speed: 30 ppm
AltaLink 8130 Print Resolution: 1200 x 2400 dpi
AltaLink 8130 Max Media Length: 52" (1320 mm)
AltaLink EPEAT: US, Canada, EU
Toshiba e-STUDIO 3015AC Specs
Toshiba Print Speed: 30 ppm
Toshiba Print Resolution: 1200 x 1200 dpi
Toshiba Max Media Length: 18" (457 mm)
Toshiba EPEAT: US
User Experience/Product Interface
Xerox
Xerox's user interface features a 10.1in color touchscreen tablet, with available and personalized apps presented on the screen, and Auto-wake up so that the machine senses when users are nearby and turns on automatically, conserving energy.
Xerox's user interface lets users completely personalize their own workflow, so they can put their favorite apps onto the homepage, change which features they want to be included in each app, and set up the screen to match their workflows, for fewer errors and faster product usage. System administrators also have the ability to set defaults and can control which users have access to personalization if necessary.
Toshiba
Toshiba's user interface is also a 10.1in touchscreen tablet, but it features additional hard buttons as well that users have to press to turn on the machine or set it to sleep.
Toshiba's user interface also allows for personalization, but not specific feature personalization, so there could be unnecessary features that you never use listed onto certain functions.
Copying
Xerox
Xerox's AltaLink copy function opens to a simple screen with two options: select the number of desired copies and then press start. If users want more detailed functions (like two-sided copying, etc.) then all they have to do is swipe up for the additional features and specifications.
Toshiba
Toshiba's e-STUDIO copy function has two options- the main screen which has complex visuals and settings displayed on it, which can quickly become confusing for users because of all the technical knowledge and complexity of the options listed. Then there's the "simple" copy screen, which hides most of the options available, but displays dialog boxes so that the number of steps is the same as the normal copy screen.
Scanning
Xerox
When it comes to the Xerox AltaLink C8130, there are several different available network destinations that users can scan to- Email, SMB, FTP, HTTP, SFTP, HTTPS, and more. Other scanning features include:
Embedded Optical Character Recognition (OCR) lets users convert scanned images into a PDFs with search functions that recognize all text.
Direct scan to repositories such as SFTP and HTTPS without any additional software needed, keeping scan files secure even within the network
Preview function gives users the ability to zoom or add additional images to be scanned, making sure that what they want to scan is clear, aligned, and in the correct order
A "Scan To" option within the main screen that supports uploading to Dropbox, Google Drive, and Microsoft OneDrive without any third-party app solutions, and with Oauth2 support.
Toshiba
For the Toshiba e-STUDIO 3015AC, the available network destinations for scanning are a bit smaller and include Email, SMB, FTP, and FTPS. Other scanning features include:
Optional Embedded Optical Character Recognition
Direct scan to FTPS repository, but not HTTP or HTTPS
Preview function gives users the ability to rotate, insert, delete, scan additional, and reorder images, with zoom.
Only third-party solutions for scanning to cloud repositories, not included in the main function of scanning
File Size
The biggest thing to note about the differences in file size is that Toshiba's are significantly larger, for example, two pages in color are 158kb on the AltaLink, and 1944kb on the e-STUDIO. Larger file sizes mean long transfer times, and less space available in document folders and email servers, which can be a problem for organizations that have limited storage options.
Printing
When it comes to printing, the AltaLink devices have a print resolution of 1200 x 2400 dpi, and allow for printing directly from Google Drive, Dropbox, and Microsoft OneDrive without any additional third-party solutions required. Toshiba e-STUDIO has a lower print resolution of 1200 x 1200 dpi and requires additional solutions in order to print from cloud repositories (not included in the main functions of printing).
The e-STUDIO's max print length is only 18", compared to the AltaLink which is compatible with banner sized printing (52"), so users can print their own signage and promotional materials.
Security
Both models have pretty solid security options, but Xerox takes it one step further in the following ways:
​
For more information on Xerox's security initiatives, read our article on Xerox's Comprehensive Printer Security.
Apps
Xerox
Xerox AltaLinks come automatically equipped with the Xerox App Gallery, which is preloaded on all ConnectKey devices. Users can access the App Gallery directly and easily, download any apps they see fit, and any apps that aren't free have pricing handled within the app, so no need to engage with Xerox or Xerox partners.
Toshiba
Toshiba's e-STUDIO's app hosting platform, known as e-Bridge, is included on the e-STUDIO device line, but users can't download or access any actual apps without assistance from Toshiba or its partners, and for paid apps, the users must work through Toshiba or partners to configure pricing.
Cost
Cost is a difficult thing to measure, mostly because prices can fluctuate a lot depending on certain things. Adding more finishers and upgrades to your printer will obviously increase the price, but there are also special promotions that some vendors run, pre-negotiated special pricing that you could qualify for, and then also the gradual price shift over time depending on the current market. For more insight on pricing and costs, read our article How Much Does Leasing/Purchasing a Copier Cost?
Without including any form of service agreements or price-per-print, the MSRP price for the Toshiba e-STUDIO 3025, introduced to the market in April of 2019, is $17,580. The MSRP price for the Xerox AltaLink C8130, introduced to the market in July of 2020, is $15,500.
Which is Right for You?
Both the Xerox AltaLink C8130 and the Toshiba e-STUDIO 3015AC are impressive models, and capable of producing excellent print jobs and performing additional functions. But now that you've seen the in-depth differences between them, your decision will be a bit easier to make, and you'll feel confident knowing you're making the right choice.
If you're looking for a machine with advanced security measures, personalized workflows, and easy-to-access applications, then the Xerox AltaLink C8130 is the machine for you. On the other hand, if you're looking for a simpler multifunction printer, then the Toshiba e-STUDIO 3015AC might be a better choice.
If you have any additional questions or are still unclear on exactly what your printing needs or budget is, feel free to reach out to us at any time and an experienced business consultant will be happy to assist you. If you'd like to read more comparison articles, check out: