If you've found yourself on this page, it's likely that you're looking for the right multifunction printer for your office and came across the Xerox WorkCentre 6515.
Here at STPT, we're always striving to provide the best fit for businesses in search of copiers and printers. Keeping our customers informed on all of the different options available is a priority for us, as well as understanding our customers' applications and business needs.
In order to help you decide if this multifunction printer is right for you, we've created an in-depth review highlighting the features, upgrades, pros, cons, and overall cost for the Xerox WorkCentre 6515.
Key Features and Specifications for the Xerox WorkCentre 6515
Print Speed: 30 PPM (Letter) / 28 PPM (A4)  
Duty Cycle: 50,000 pages per month 
Recommended Volume per Month: 5,000 (10% of monthly duty cycle)  
Resolution: Print: 1200 x 2400 dpi Copy: 600 x 600 dpi  
Available Print Sizes:  
Single-pass Duplex Automatic Document Feeder (DADF): 50 sheets – Custom Sizes – 5.5 x 5.5 in. To 8.5 x 14 in.  

Bypass Tray: 50 sheets – custom sizes – 3 x 5 in. To 8.5 x 14 in.  

Tray 1: 250 sheets – custom sizes – 3 x 5.8 in. To 8.5 x 14 in.  
Tray 2: 550 sheets – custom sizes – 3 x 7.5 in. To 8.5 x 14 in.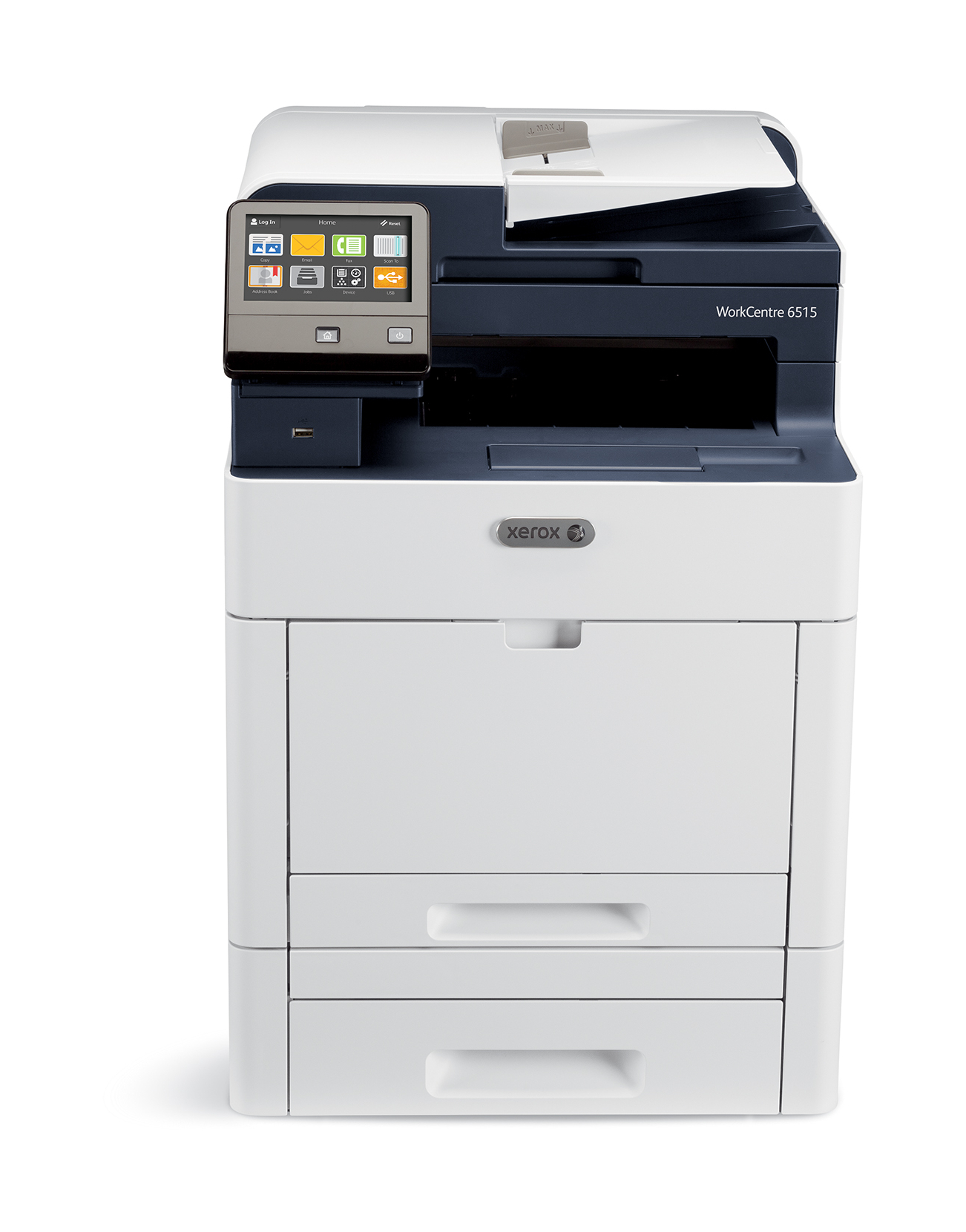 Additional Features
While the key features like print speed and duty cycle can highlight the power of the machine, it's the additional features and benefits that showcase what the Xerox WorkCentre 6515 is capable of.
Internet Connectivity
With the WorkCentre 6515, Wifi connectivity comes standard, equipped with a Wifi installation wizard and Wifi protected setup, so getting set up and connected to the internet is safe and secure, and there's no need to purchase an expensive Wifi kit alongside your machine. With included Wifi connectivity, you can also choose to place your device wherever is more convenient in your office, and you're not limited by connecting to certain ports.
Having a direct Wifi connection allows for a wide range of mobile devices to connect securely and directly to your device as well, and Near Field Communication (NFC) is installed so that users can connect their enabled mobile devices easily to print documents, photos, and emails.
Image Quality and Toner
The WorkCentre 6515 utilizes Xerox's EA toner formula, providing users with spectacular image resolution due to its smaller toner particles, which allow the machine to produce finer details.
The Xerox EA toner formula also comes with redesigned dot reproducibility, and melts at lower temperatures, allowing for less toner waste and making the WorkCentre 6515 function at a more energy-efficient level, which is especially great if you're working in a home office.
Versatility and Performance
The WorkCentre 6515 is a multifunction printer, meaning that it can print, scan, copy, and fax all in one machine, and its small size helps conserve energy to save not only money but valuable floor space as well.
It also saves time, with printing speeds up to 30 ppm (prints per minute), and the ability to simultaneously scan both sides of a two-sided document at about 37 impressions per minute. And with the optional second paper tray, you can load an additional 550 sheets at once, minimizing printing disruptions and the need to constantly fill it with paper.
The WorkCentre 6515 also has a color touchscreen user interface, giving users a tablet-like experience that can even be customized for personalized individuals and their workflows. It's cloud-capable (meaning it can scan and print to/from cloud repositories like Google Drive), equipped with scan previews (so you can see what you're scanning before you send it), and comes with all the robust security features that you can expect from a Xerox device.
Available Upgrades
50-sheet Single-pass Duplex Automatic Document Feeder (DADF)  

Handles media sizes from 5.5 x 5.5 in. To 8.5 x 14 in.  

Can create searchable PDFs with integrated optical character recognition (OCR).  
Scan to email, network, and direct scan to applicants.  
Tablet-like, color, multi-touch user interface 
Front-side USB Port 

Grants users the ability to print from or scan to any standard USB memory device.  

Adjustable 50-Sheet Bypass Tray 

Accepts custom media sizes from 3 x 5.8 in. To 8.5 x 14 in.  

The 250-Sheet Tray 1  

Accepts custom media sizes from 3 x 5.8 in. To 8.5 x 14 in.  

(Optional) 550-Sheet Tray 2 

Increases the total paper capacity to 850 sheets to save time and minimize printing disruptions.  
Pros of the Xerox WorkCentre 6515
Standard Wifi Connectivity
Unlike most multifunction printers that usually require an adapter to connect to Wifi, the WorkCentre 6515 comes with it already equipped, so you don't have to spend extra money or time trying to connect via an ethernet cable. You also have more flexibility in where you choose to place your device since there's no ethernet or LAN connection required.
Size and Cost
The WorkCentre 6515 is a compact machine that's capable of fitting into smaller workspaces, so there's no need to clear a large area of a room just for the printer. And while it can still perform all the necessary functions of a multifunction printer, it's significantly cheaper than some of the other products in Xerox's line, making this an excellent option for home offices.
Cons of the Xerox WorkCentre 6515
Recommended Print Volume
The WorkCentre 6515 is not meant for high-volume printing. While you can add an additional 550-sheet paper tray to increase the machine's maximum paper capacity, it's still only a desktop model, and not intended to print more than 5,000 prints per month.
Printing over your machine's recommended print volume can lead to repeated malfunctions, service calls, and a short lifespan for your device. Regardless of what the duty cycle may list, it's important to adhere to the designated recommended print volume. To read more on this, check out our article Understanding Your Copier's Duty Cycle and Your Print Volume.
Who is this Multifunction Printer a Good Fit for?
This machine is ideal for a personal office that has a relatively small print volume. It's a perfect fit for a home office. Its versatile enough to keep with the demands of a small business and can fit just about anywhere. Its affordable price also keeps it accessible to those who might not want to invest in a bigger multifunction printer.
Who is this Multifunction Printer NOT a Good Fit for?
This machine is not a good fit for demanding medium-sized businesses and larger, or for workgroups with high printing volumes. It can only process A4 paper media, so for any printing needs that are larger than 8.5x14, it's recommended you look for a larger multifunction printer. It also doesn't have the ability to add-on finishing options such as stapling and hole-punch.
Overall Cost
Currently, for the WorkCentre 6515, you can expect to pay around $300. Of course, this can vary with the additional upgrades available for purchase, or if you're part of a purchasing co-op.
For more information regarding costs, we recommend checking out the article How Much Does Leasing/Purchasing a Copier Cost?
Think the Xerox WorkCentre 6515 Might Be Right for You?
After reading this review you now have a good in-depth understanding of the Xerox WorkCentre 6515 Multifunction Printer, and you have a clearer idea if it's a good fit for you and your organization. You can approach any sales conversation with the upper hand, and the confidence you need to know you're making the right decision.
If you'd like to move forward with the WorkCentre 6515, reach out to us here at STPT, and we'll assist you in getting the multifunction printer your office needs.
If the WorkCentre 6515 doesn't sound like it's the machine for you, check out some of the similar options we offer such as the VersaLink C405 and B405.